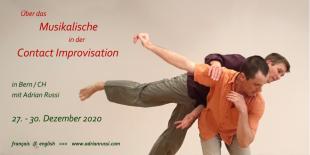 DE: Dieser Workshop bietet ausgiebig Zeit, der eigenen Musikalität - also dem eigenen Empfindungsvermögen für Musik - auf die Spur zu kommen. Absicht ist, neue Inspiration sowie mehr Ausdruckskraft und Kreativität in der Contact Improvisation zu finden - eine Tanzform, die aus meiner Sicht oft allzu sehr von physikalischen Begebenheiten wie Gewichts-Austausch und Momentum geprägt ist.
FR: Cet atelier offre beaucoup de temps pour explorer votre propre musicalité - votre propre sensibilité à la musique. L'intention est de trouver une nouvelle inspiration ainsi que plus d'expressivité et de créativité dans le Contact Improvisation - une forme de danse qui, à mon avis, est souvent trop influencée par des événements physiques tels que l'échange de poids et l'élan.
EN: This workshop offers plenty of time to explore your own musicality - your own sensitivity for music. The intention is to find new inspiration as well as more expressiveness and creativity in Contact Improvisation - a dance form which in my opinion is often too much influenced by physical events such as weight exchange and momentum.