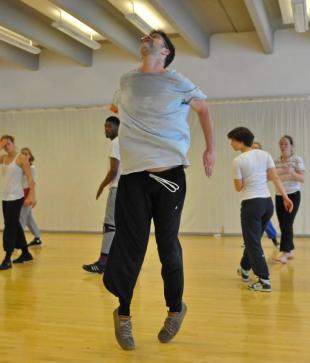 Saturday Contact Workshops in Cambridge 2023
September 16th, 10:30-4pm: Beginnings 
What is at the core of communication with a dance partner - paying close attention to sensory phenomena such as pressure and direction on the skin.
This empirical noticing of physical experience is technical but is also the key to a warm human connection based in listening and being heard.
October 14th, 10:30-4pm: Relating
What does it mean to relate in dance, as opposed to relating socially? Relating through dance is more simple and in some ways more complex than social relations. We will explore boundaries, the power of learning to move away from what you don't want and the freedom of moving towards what you want.
December 9th, 10:30-4pm: Expanding 
This workshop will work with 'Expanding' both literally and metaphorically, stretching our awareness beyond our duets to include space and group, and also adding to our CI vocabulary.
Starting with a deep somatic warm up to activate your solo CI body that partners you with floor and gravity. we will then move on to expanding our vocabulary in partner dances through technical challenges and new patterns.
Finally, scores for group awareness will enrich our CI experience.
Tickets per workshop: Regular £40. Concessionary £35
When:  Sat 16th Sept, Sat 14th Oct, Sat 9th Dec, 10:30am - 4pm 
Where: St Philip's Church, 185 Mill Rd, Cambridge 
Who:    Everyone is welcome.
Booking: www.ricknodine.com
Info: dancenodine@gmail.com