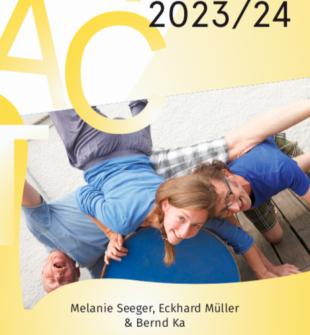 // Kompakt-Training February – June 2024
Contactimprovisation basiert auf gegenseitigem Vertrauen und Achtsamkeit und der Fähigkeit - in direktem körperlichen Kontakt - mit sich und anderen verantwortlich, offen, phantasievoll und spontan umzugehen.
Das Training umfasst Übungen zur sinnlichen Wahrnehmung, feine bewusste Körperarbeit, Arbeit an der Durchlässigkeit für den inneren Bewegungsfluss und dynamischen Elementen, wie z.B. Prinzipien aus Kampfkünsten und natürlich den üblichen Skills und Techniken der Contactimprovisation, vom Boden bis in höhere Ebenen, wie z.B. Lifts und Sprünge.
Das Projekt richtet sich an Menschen mit Vorerfahrung. Es ermöglicht, die eigenen Fähigkeiten in einer konstanten Gruppe zu vertiefen, das tänzerische Repertoire spielerisch zu erweitern und sich selbst und andere auf eine neue Art und Weise wahrzunehmen. Darüber hinaus kann die Arbeit in anderen tänzerischen oder sozial/therapeutischen Arbeitsfeldern sinnvoll unterstützt werden.
Trainingsinhalte
– Innen- und Außenwahrnehmung
– Auf- und Ausrichtung unseres Skeletts
– "Center-Periphery" Verbindung
– Gravitation, Balance und Fluss
– Leichtigkeit & Dynamik
– Berührungsqualitäten
– Modulation des eigenen Gewichts
– Techniken von "surfing" bis "lifts" oder "up side down"
Man kann sich nur für das gesamte Kompakttraining anmelden
Ehemalige Teilnehmer können auch Einzelmodule belegen.
Termine 2024
24./25. Februar              2 Tage
16. / 17.  März               2 Tage
13. / 14. April                2 Tage
09. / 12. May                 4 Tage
30. May – June 2            4 Tage
Bei jedem Termin unterrichten in der Regel zwei Lehrer (Bernd, Eckhard, Melanie)
Bernd Ka wird in diesem Jahr das CI Kompakttraining zum letzten Mal begleiten.
Preis
€ 690,–   bei Buchung bis 31. Dezember 2023
€ 740,-    bei Buchung bis 31. Januar 2024
€ 790,–   bei Buchung danach
Zeiten für alle Trainings
Erster Tag:                    11 – 17 h
Letzter Tag:                   10 – 15:30 h
Tage dazwischen:           10 – 16 h
Unterkunft: Können wir vermitteln helfen
Sprache: Deutsch und bei Bedarf englisch
Video-Trailer: http://vimeo.com/101845669
BIOS
Bernd Ka (GER) www.berndka.de
Tänzer, Pädagoge und Feldenkraislehrer, Co-Leitung der Ausbildung von TIP - Schule für Tanz, Improvisation und Performance von bewegungs-art freiburg.  Bernd Ka tanzt, performt und unterrichtet Contact Improvisation im In- und Ausland seit Beginn der achtziger Jahre und hat nicht unwesentlich zur Entfaltung von C. I. in Deutschland beigetragen. "Auch nach über 30 Jahren Contact Erfahrung fasziniert mich, wie man in dieser Tanzform immer wieder Neues entdecken kann. Ich liebe es zu forschen, auch mal unkonventionell zu arbeiten, mit Humor und Offenheit alte Erkenntnisse neu anzuschauen, neu zu bewerten oder zu verfeinern und dies mit anderen teilen zu können."
Eckhard Müller (GER/F) www.dani-ecki.com
Performer und Lehrer für Contact & Improvisation, Mitbegründer des contactfestival Freiburg sowie der Tanzkompanie degadezo in Straßburg. Weitere Erfahrungsschwerpunkte in zeitgenössischer Bewegungstechnik am Boden, Akrobatik und Yoga.
"Als ich Ende der 80er mit CI in Berührung kam, war dies wie ein "Magnesium-Effekt" für mich, der mein Leben radikal änderte. Ich wechselte vom Sozialpädagogen in die Welt des Tanzes mit Schwerpunkt in CI und Improvisation. In meinem Unterrichte versuche ich einen spielerischen Zugang zu unserem Körper in Bewegung sowie den damit verbundenen physikalischen Kräften zu wecken. Und ganz allgemein geht es mir um Freiheit, Leichtigkeit und Fluss in der spielerischen Improvisation mit dem Anderen und der Gruppe."
Melanie Seeger (GER) www.tanz-mehr.de
Lebt und arbeitet in Freiburg als freischaffende Tänzerin, unterrichtet Neuen Tanz, Improvisation und contact Improvisation, Yoga und Pilates. Außerdem war sie Dozentin beim Basisprojekt, ein 11 –wöchiges intensiv Tanztraining von beweguns-art freiburg und in verschiedenen Kindertanzprojekten. Ihre Ausbildung zur Tänzer und Performerin machte sie bei TIP, Freiburg.
Davor machte sie während ihrer Erzieherausbildung eine zweijährige berufsbegleitende Fortbildung in Tanz -und Ausdruckstherapie. Sie ist zertifizierte Vinyasa Yoga Lehrerin, sowie Pilatestrainerin.
"Durch einen Zufall kam ich zur Contact Improvisation und wusste sofort hier bin ich Zuhause. Das war der Beginn meines tänzerischen Weges, für den ich überaus dankbar bin.
english translation
// Compact training February - June 2024
Contact improvisation is based on mutual trust and mindfulness and the ability - in direct physical contact - to deal with oneself and others in a responsible, open, imaginative and spontaneous way. The training includes exercises for sensual perception, fine conscious body work, work on the permeability for the inner flow of movement and dynamic elements, such as principles from martial arts and of course the usual skills and techniques of contact improvisation, from the floor to higher levels, such as lifts and jumps.The project is aimed at people with previous experience. It enables them to deepen their own skills in a constant group, to expand their dance repertoire in a playful way and to perceive themselves and others in a new way. In addition, it can provide useful support for work in other dance or social/therapeutic fields.
Training contents:
- Inner and outer perception
-  alignment of our skeleton
- "Centre-Periphery" connection
- Gravity, balance and flow
- Lightness & dynamics
- Touch qualities
- Modulation of one's own weight
- Techniques from "surfing" to "lifts" or "up side down"
You can only register for the entire compact training
Former participants can also take individual modules.
Dates 2024:
24/25 February   2 days
16. / 17. March   2 days
13. / 14. April     2 days
09. / 12. May      4 days
30.May - June 2  4 days
Two teachers (Bernd, Eckhard, Melanie) are always present
Bernd Ka will accompany the CI Compact Training for the last time this year.
Price : 
€ 690,- when booking until 31 December 2023
€ 740,- when booking until 31 January 2024
€ 790,- for booking after that
Times for all trainings:
First day: 11 - 17 h
Last day: 10 - 15:30 h
Days in between: 10 - 16 h
Accommodation: We can help to arrange
Language: German and if needed English
Video-Trailer: http://vimeo. http://vimeo.com/101845669
BIOS
Bernd Ka (GER) www.berndka.de
dancer, pedagogue and Feldenkrais teacher, former co-director of the training of TIP - School for Dance, Improvisation and Performance by bewegungs-art freiburg.  Bernd Ka has been dancing, performing and teaching Contact Improvisation in Germany and abroad since the beginning of the 1980s and has contributed significantly to the development of C. I. in Germany."Even after more than 30 years of Contact experience, I am fascinated by how one can always discover something new in this dance form.I love to explore, to work unconventionally, to look at old insights with humour and openness, to re-evaluate or refine them and to be able to share this with others."
Eckhard Müller (GER/F) www.dani-ecki.com
Performer and teacher for Contact & Improvisation, co-founder of the contactfestival Freiburg as well as the dance company degadezo in Strasbourg. Further experience in contemporary movement technique on the floor, acrobatics and yoga. "When I came into contact with CI at the end of the 80s, it was like a "magnesium effect" for me that radically changed my life. I changed from being a social educator to the world of dance with a focus on CI and improvisation. In my teaching I try to awaken a playful approach to our body in movement and the physical forces associated with it. And in general, I am concerned with freedom, lightness and flow in playful improvisation with others and the group."
Melanie Seeger (GER) www.tanz-mehr.de
Lives and works in Freiburg as a freelance dancer, teaches new dance, improvisation and contact improvisation, yoga and Pilates.She was also a teacher in the Basisprojekt, an 11-week intensive dance training programme by beweguns-art freiburg, and in various children's dance projects.She trained as a dancer and performer at TIP, Freiburg.Before that, she did a two-year in-service training in dance and expressive therapy during her teacher training.She is a certified Vinyasa Yoga teacher and Pilates trainer. "I came to Contact Improvisation by chance and knew immediately that this was my home.That was the beginning of my dance path, for which I am extremely grateful.