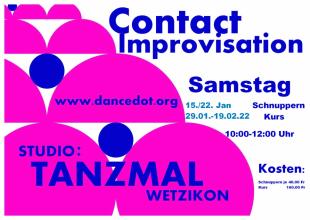 Wir werden uns mit der Improvisation in der Verbindung zum Kontakt mit mir und Anderen beschäftigen.
Wo fängt der Kontakt an, wohin zieht mich meine Improvisation im Tanz. Die Aufmerksamkeit auf die Sinne leiten, wie nehme ich "wahr", was sind meine Werkzeuge für diesen Tanz.
We are going to explore the never ending possibilities of Contact Improvisation.
Where does it start to be a dance, where is the contact to myself and other dancer in the space connected? Questions in dance, in the improvisation and in the connection of the other humans in our space.
What are my tools ..............