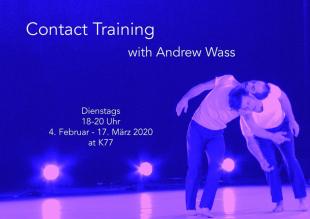 During this course we begin with solo body techical material as points of departure into open dancing. We will then lab ideas, questions, pathways, etc. that arise during the open dancing.
This time is for people who wish to learn Contact Improvisation intensively over a longer period of time in a group and to experience quality and depth in the development of dance as well as in the encounter in dance through the grown trust.
We would like to assemble a group that is committed to continuity in order to train, learn and research together. This course is for those who are invested in Contact Improvisation and want to deepen their practice.
immer Dienstags 18:00-20:00 Uhr
Start Feb. 4
Ende:März 17, .2020
Unterrichtssprache: Deutsch/Englisch,
Preis: 105€ (90€ bei Anmeldung bis 7.1.)
Anmeldung/Fragen an wasscubed@gmail.com