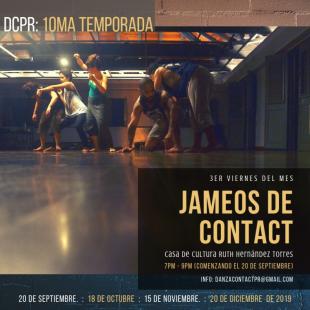 Los Jameos de Conctact son una invitación a aprender y practicar entre todas/os la danza contacto en encuentros abiertos al movimiento, el contacto y la espontaneidad.
Las prácticas comienzan con un calentamiento guiado donde se aprenden técnicas y conocimientos básicos que facilitan la práctica de la danza contacto. Luego, en el jameo, nuestro propio lenguaje corporal nos llevará a explorar libremente esta danza.
Los/las interesados/as podrán participar, observar y/o retirarse del jameo cuando así lo deseen. El objetivo es crear una comunidad que comparta un mismo interés: practicar e investigar la danza contacto. Por tal razón están abiertos al público general y no se necesita experiencia previa en danza contacto para participar.
Donativo sugerido: $7 a $10
No dejes de venir si no tienes el dinero
--------------------
The jams begin with a guided warm-up where we work with some basic principles of shared weight, etc., in order to facilitate the practice. Later, in the jam, our own body language will lead us to freely explore this dance.