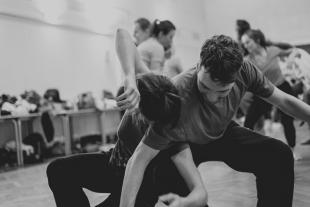 *english below*
Mit Feldenkrais Einheiten erleben wir unsere Anatomie und erkunden wie sich alles miteinander bewegt. Wir werden über Zusammenhänge und Beziehungen lernen. Wir werden Bewegung auf einem tieferen Level verstehen. Diese Erfahrung nutzen wir, um miteinander in Kontakt zu kommen und die Qualität des gegenseitigen Zuhörens zu verfeinern. Wir werden sanft von Skelett zu Skelett flüstern und Informationen über unsere eigene und die Struktur unserer Partner:innen gewinnen. Mit sanften Impulsen laden wir uns gegenseitig in neue Richtungen ein.
Wie nutze ich meine und deine Struktur, um unseren Tanz noch geschmeidiger, leichter und wendiger werden zu lassen? Wie kommuniziere ich über Berührung mit großer Klarheit? Wie gestalte ich unseren Tanz aktiv?
Wir werden uns unserer Gewohnheiten bewusst und gewinnen an Handlungsvielfalt und Gestaltungsmöglichkeiten.
ENGLISH
With Feldenkrais lessons we'll experience our anatomy and explore how everything moves together. We'll learn about connections and relations. We'll understand movement on a deeper level. We'll use this experience to connect with each other and share this deep listening in our dances. We'll whisper softly from skeleton to skeleton, gathering information about our own and our partners structure. With gentle invitations we'll invite each other into new directions.
How can I use my own and my partners structure to fill our dances with smoothness and lightness? How can I communicate through touch with great clarity? How can I actively shape our dance?
We'll create awareness of our habbits, discover new possibilities and gain a bigger variety of choices.
WHEN - 2023
Fr 10.11. 17.00 - 20.00
Sa 11.11. 10.00 - 17.00
Su 12.11. 10.00 - 16.00
WHERE
Alte Werkstatt
Lehnergasse 17
3423 St.Andrä-Wördern (close to Vienna)
HOW MUCH
€ 210,- /180,- (payment until 1.10.2023)
ACCOMODATION
You can sleep in the Studio for € 15,- per night. Bring your own sleeping bag and mat. Please tell me when you register.
REGISTRATION  info@freibewegt.at
MORE INFOS & WORKSHOPS

https://www.freibewegt.at/frei-tanzen/tanz-workshops/