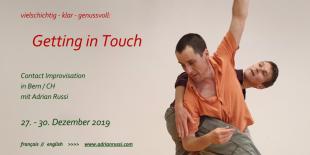 My fascination for CI is based primarily on the multifaceted nature of this dance form and thus how it serves the most diverse human needs and interests. In dance I can - besides many other things - indulge in the broad spectrum of my desire to move as well as experience vital contact and nourishing qualities of touch. I encounter playfulness, trust and challenges along with a deep connection with myself. Furthermore, the physical examination offers me a concrete, perceivable approach to the fields of psychology, community and spirituality and allows me to collect lasting experiences and insights. I can experience how sensation and mind find harmony and how my wish to be with myself and in contact with others at the same time comes true.
This workshop is a great opportunity to get in touch with the manifold sides of CI and thus of ourselves. The 4 days also offer the chance to explore how we deal with physical contact and intentions of touch. The entrance gate for our work is through perceiving structure and physicality and trough precise movement technique. In doing so, we move in the apparent contradiction of orienting ourselves to physical and anatomical facts and at the same time immersing ourselves in dance as living, sentient human beings. So for example exploring different body layers and systems helps us to refine our self-perception. This leads to a more specific tracking-down of movement impulses and thus to a more differentiated and authentic establishing of contact with the others. The topic of neediness - one's own and that of the partners - must not be missing in our investigation, as well as possible ways to find a satisfying and respectful way of dealing with it.
For me, the foundation for this multilayered exploration consists in the fact that CI is practiced with pronounced self-responsibility and awareness for successful communication. This includes that with our whole individuality we challenge the others and the space, set clear limits and are ready to provide and accept support whenever necessary. Through this we co-create a vital space where a manifold and nourishing exchange can take place.
Open to participants with experience in CI.