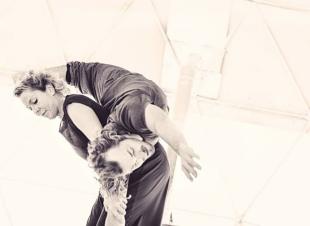 motionlab.cologne warmly presents
Vega Luukkonen & Hugh Stanier with
"Light Flights & Breathing Landscapes"
Cologne 28.-29.10 2023
Optional Friday 20-23 (Contact Jam)
Saturday 11-16 & 19-22
Sunday 11-16
Spaces are limited. Dancefloor with 220 sqm soft tatami mats.
Registration:
contact@motionlab.cologne
Early Bird Price until 30.9.23 140 EUR
Standardprice 180 EUR
(For German version scroll down)
Contact Improvisation with
Vega Luukkonen & Hugh Stanier
The focus of our practice is physicality. We flow in and out of contact, viewing the dance as a playful dialogue which breathes freely as it develops. Presence and awareness help to expand the horizon of choices and directions, and opens up more possibilities.
We work both technically - concentrating on building up a functional understanding of underlying physical principles and structures of contact improvisation- and experientially - widening the trust to instincts, impulses and intuition. Also building up an understanding of how our bodies work. How the joints, bones, muscles and skin function to bring clarity and more awareness to movement.
The principal themes behind our work are organic, fluid and functional movement. Effortless transitions. Efficiency. Sequentiality.
Some of the movement principles and patterns we employ are sourced from developmental movement patterns and floor-work.
The sessions develop slowly from inside to out. Ending towards more technical material. We often start with individual floor-work, offering particular principles and tasks, and then gradually build up to standing using the natural spirals of the body. Material alternates between contact and solo tasks, and also exercises that connect the group as a whole. Creating an open, safe environment to explore.
We focus on cultivating a deeper awareness of listening, breathing, giving, receiving, and timing.
Within specific exercises we explore tools that are helpful to work in contact such as; sharing weight, center-to-center, leaning and supporting, rolling point of contact. Also using ideas around momentum, suspension, inertia & falling. We will find effortless ways into weight transfers and lifting.
Falling and catching. Suspending the time.
Lightness. How do we distribute our weight intelligently, and when do we give weight? Fine tuning and subtle precision.
Awareness in timing allows us to take easy rides to fly !
Technique and Poetry.
Structure and Freedom.
Playful Beings in Motion.