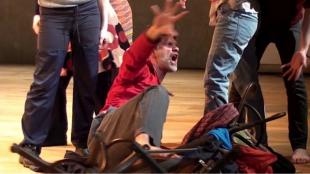 What: Patterns are a part of life, some are helpful, others are not. In CI, it is the same and in this workshop we will examine some helpful patterns for rolling, supporting and flying. 
We will start with a deep somatic warm-up that leads to connected improvisational encounters that remind us of what we already know about moving. We will then switch to studying a series of movement patterns that connect us to the support of the floor and to our ability to support other bodies through this grounding. 
We will develop partnering exercises that promote precision weight sharing and make us brave enough to fly. These patterns are not complex choreographies but are more like simple tools that you can take ownership of and use in your dancing. 
Technical study will evolve into free Contact Dancing where we can explore and integrate patterns into improvisation.
When: Saturday 28th November, 2pm - 7pm 
Ticket: £30 (£25 Concessions)
Where: Acland Burghley School Sports Centre, Churchill Rd, London NW5 1AN (5 min walk from Tufnell Park Tube, 10 min walk from Gospel Oak Overground and 12 min walk from Kentish Town Thameslink, N.B. Kentish Town Tube is closed until 2024)
Who: Everyone is welcome.
Info: dancenodine@gmail.com
Booking here