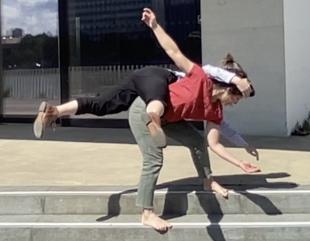 zwei sommerworkshops - separat oder in einem:
improv & movement: freitag, 8.juli 19-21 und samstag 9.juli 10-12:00
contactimprovisation: samstag, 9.juli 13-15:30 und sonntag 10.juli 10-12:30
two summerworkshops in july 22 - individually composable :
improv & movement: friday july 8, 7-9 pm & saturday july 9, 10-12 am
contactimprovisation: saturday july 9, 1-3.30 pm & sunday july 10, 10-12.30 am
reduce, reuse, repeat, dance!
inspiration is always there.how to be available for it to find us?
in this 2-in-1 workshop/s we use simple tasks to choose  and focus inside the endless field of possible movement. waking up our curiosity for simple things provides us with a wide spectrum of creativity. through perceiving ourselves, our surroundings and the movement of other bodies, we get connected to ourselves and everything else that inspires us.
open to all levels of experience. a bit of connection to your own body is helpful.
inspiration ist immer da!...wie kann sie uns finden?
In diesem/diesen workshop/s helfen einfache aufgaben, sich im endlosen feld  möglicher bewegungen zu orientieren und gleichzeitig fokussiert und doch mit grosser freiheit zu improvisieren. wir verfolgen unser interesse für simple dinge, wodurch die kreativität geweckt wird und wir in fokussierten fluss  kommen. die aufmerksamkeit für uns selbst, die umgebung und die bewegung der anderen bringt uns in kontakt mit dem eigenen körper und mit dem, was ihn umgibt.
ganzer workshop: 150.- friday  40.- sat. 100.- sun. 50.- fri/sat. 120.-sat/sun. 130.-
earlybird: (until sunday 26th): 10% auf deinen preis