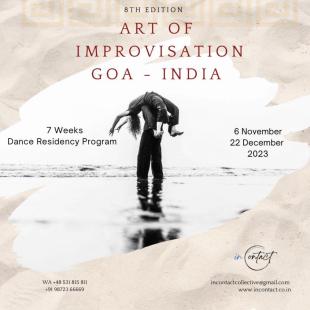 We are so excited to present the 8th edition of Art of Improvisation ( 7 week Dance Residency in Goa - India ) in a new, unique format supported by incredible facilitators, friends, and colleagues.

November-December ART OF IMPROVISATION RESIDENCY
is a seven weeks program designed for in-depth study and research of the form of Contact Improvisation; to develop body-mind integration and skills for the practice and to actively engage in the research of the fundamental principles of the form, its performative potential and open possibilities of development.

The Residency offers a multitude of ways to enter the practice of Contact Improvisation through the expertise of artists with background in contemporary dance, somatic practices, and Contact Improvisation. With the vision of integrating the practitioners of contemporary dance and Contact Improvisation as well as creating a point of exchang between Indian and international artists, including: Guru Suraj, Prashant More, Kira Kirch, Karen Nelson (online), Nakula Somana, Marta Wrzesinska, Adrianna Michalska, Hari Choudhary, Alexandra Vorobiova, Jeevak More, Harmandeep Singh Somya Kautia, Karthik Rajmohan, Akshay Murarka, and more..
PART 1
6-17th November
Solo body in contact improvisation

PART 2
20th November - 1st December
Space of collective attention

PART 3
4-22nd December
Harvesting into a performance
*It is possible to join the full residency or just one part.
Place
Jungle Dance Theatre
Arambol, Goa, India

More information and registration of interest
https://incontact.co.in/events/aoi-2023?s_type=cigc

Get in touch
incontactcollective@gmail.com
WA +91 987236669
WA +48531815811