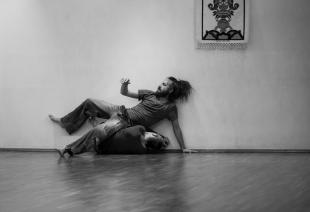 The anthropologist Anna Tsing defines precarity as " the condition of being vulnerable to others". Rather than thinking of it as an exception, Tsing proposes that "precarity is the condition of our time" in what she terms the ruins of capitalism. In this workshop we will explore the proposition that contact improvisation is, at its core, a practice or a training in co-precarity, the condition of being vulnerable to each other. 
Anna Tsing continues: "Unpredictable encounters transform us; we are not in control, even of ourselves. Unable to rely on a stable structure of community, we are thrown into shifting assemblages, which remake us as well as our others. We can't rely on the status quo; everything is in flux, including our ability to survive." Though she does not write about or from dancing, I find her words to describe quite beautifully my experience of Contact Improvisation. Lets fall together.
(from the book by Anna Tsing: Mushroom at the End of the World: On the Possibility of Life in Capitalist Ruins)
ASAF BACHRACH
Asaf Bachrach has been practicing contact improvisation (CI) as well as other types of improvisation techniques (Butoh, tuning score…) since 1994. He Studied in Tel Aviv, New York, Paris and Boston. Among his most influential professors are Steve Paxton, Kirsty Simson, Lisa Nelson and Min Tanaka. Since 2000, he has taught in Europe, in the USA, in Buenos Aires and in Israel. In 2012, he organized an international conference in Paris around CI and 'mindfulness'. Since 2016 he is a certified Rolfing® practitioner, a student of Hubert Godard. Asaf has been co-leading with Matthieu Gaudeau, since 2013 of the bodylab and the F.A.R nomadic somatics school, a trans-somatic (Feldenkrais, Alexander, Rolfing and CI) experiential research group. Asaf is a practicing cognitive neuroscientist (PhD 2008, MIT) at the CNRS (Centre National de la Recherche Scientifique). His research topics include language (syntax, language comprehension…) and dance (performance, spectating, joint improvisation, new technologies). He has organized a number of in-disciplinary events around dance, improvisation and cognition bringing together scientists, movement practitioners, anthropologists and philosophers. He is a member for the new ArTec graduate program in the university Paris 8 where he is taking part in shaping the recherche-creation program. Since 2020, Asaf lives, dances, teaches and grows vegetables in Larret (larret-a-venir.fr), a dance collective in south western France.