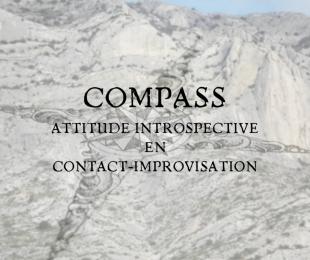 * version française détaillée en dessous du résumé en anglais
☀ CONTEXT

new cycle of practice in contact-improvisation in Paris :

>>> at "kinokho studio", 24-32 rue des almondiers, 75020 Paris ; a bright and quiet nest of 120m2 - floor: parquet
>>> 200m from the metro station Père Lachaise

☀ SCHEDULE :

>>> Workshop 'COMPASS - introspective attitude in contact-improvisation' from 9h30 to 12h30

>>> 'EXPLICIT jam' from 1:30 pm to 5:30 pm


dedicated page 
https://www.lesfrontalieres.com/contact-improvisation-paris

☀ to enter the building (24-32 rue des amandiers), there is an intercom: ring at 'kinokho studio' and we will open the door // for the jam in the afternoon, it is possible to arrive from 13:30, and we will start together at 2 p.m. - if you arrive a bit later we will be there to welcome you :)

☀ information and registration (pre-registration by email required for the morning workshop): lesfrontalieres@gmail.com
 
* INFOS PRATIQUES
premier atelier
le samedi 19 octobre 2019
de 9h30 à 12h30

au studio Kinokho
24-32 rue des Amandiers
Paris XXème arr.

participation 
 tarif soutien 25€ / plein tarif 20€
tarif réduit (intermittent.e, chômeur.euse, étudiant.e) 15€
demi tarif  (rsa, aah) 10€

​inscription : lesfrontalieres@gmail.com

INTENTION

Et si, tournant notre attention vers nous-mêmes, nous accédions à une compréhension et à une disponibilité accrues dans la relation aux 'autres', à ce qui se donne habituellement comme 'autre', 'étranger' ou 'différent' '? 

C'est depuis cette hypothèse que nous orienterons notre pratique pendant le cycle d'ateliers 'COMPASS - attitude introspective en contact-improvisation'.

Une invitation à entrer dans la pratique du Contact-Improvisation depuis une voie contemplative, prenant pour boussole notre capacité à nous sentir sentant, en relation.

La proposition est d'explorer les qualités de relation à un sol élargi :
 le sol qui embrasse nos pieds, nous soutient et nous accueille ;
 le sol de l'instant, palpable dans les dynamiques et les qualités de l'attention ;
 le sol du vivant qui nous compose et nous relie aux autres êtres sentients.

POINT DE DEPART (ETAT D'ESPRIT)

' "Yes" is this honest acknowledgement of "oh, this is how it is right now", and letting it be as it is, not fading reality. We are not saying yes to some outside person or situation. We are not saying "Oh, you're abusing me ? yeah, go ahead !". It's not like that. It doesn't mean we are being passive. (…) What we are saying is "Yes" to the despair I feel about that, or the fear I feel about that, or the anger. We are saying "Yes" acknowledging 'this is how I feel', because actually when you say yes to this moment, you can act in the next moment from much more intelligence and clarity and kindness. So it's not passive in any way.'
Tara Brach, 'Saying  "Yes" - Meeting Your Edge and Softening'

AMBIANCE

Durant le cycle d'ateliers de pratique en contact-improvisation 'COMPASS', nos présences attentives seront invitées à se mettre au service de l'examen des jeux (> dans le sens de 'avoir du jeu') interactionnels à l'oeuvre lorsque nous sentons-bougeons ensemble. Goûtant notre co présence attentive, jouant ensemble à générer de multiples manières d'entrer en relation avec le sol qui nous soutient, le vivant qui nous unit.

Les interactions sont envisagées ici comme des zones charnières, où le jeu, le flottement, le défaut d'articulation entre les deux éléments en relation, etc. deviennent autant d'occasions pour examiner et comprendre ce qui se joue le reste du temps, quand il n'y a pas de jeu, que les interactions 'fonctionnent'. 

Une occasion pour dire oui à tout ce qui ne marche pas, ne fonctionne pas, toutes ces erreurs qu'il est bon de remarquer et d'accueillir tendrement, se souvenant de leur rôle primordial dans tout apprentissage. 

Nous aborderons l'entrée en contact et en mouvement par une mise en jeu progressive de l'attention dans ses deux dimensions conjointes : attention focalisée et attention ouverte. Nous observerons-en-action comment cette double direction de l'attention peut orienter et être orientée par a) le mouvement b) l'absence de mouvement apparent. Nous explorerons cette flexibilité attentionnelle dans des situations d'interactions variées, en contact, improvisant. 

Et nous prendrons le temps d'interroger l'expérience a posteriori à l'aide d'outils de verbalisation introspective - descriptive (écriture et parole attentives) avec une attention particulière portée à la mise au jour des modes d'interactions en jeu lorsque nous improvisons ensemble.