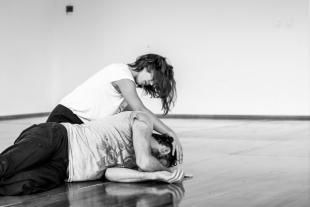 Join us in a new year retreat in Contact Improvisation Dance
with Manuel Rochette and Selena La Brooy. 
The retreat will include a harmony of classes, jams, solo exploration,
potlucks, sauna and a new year celebration. 

Undeniably, we are beings capable of great accomplishments. And in our enthusiasm for doing, making, and creating we too often forget to simply allow a state of release and curiosity to take us into the world. Yet, in a place of such a surrendered state, how can we also emanate clarity and direction without losing this state of readiness that tension too often masks, and lethargy dampens? 
In this 6 day immersion, we will dance with these questions in mind;
How does my attention shape my movement choices? 
How can my senses guide me towards novel effortlessness?  
Can the paths of less resistance and the one less traveled become one? 
How can I bring my totally to the dance while remaining in integrity with myself and my capacities. 
How can I find synonymity between relaxation and clarity?
Physically, we'll be investigating tensegrity, yielding, tonus, and ergonomics, as a mean to find new pathways. 
We'll research embodied availability to discover greater width of connection
thru poly-centricity; the skill of being responsive from multiple centres. 
We'll explore with blindfolds, sound and somatic practices to enliven our sensitivity. 
This retreat will be aimed at a yin/yang balance to access both inner and outer worlds of our dance. 
While the focus will remain on learning, many jams will be included in our time together. 
The overarching intention of this retreat is to make a step toward freedom of choice,
broaden our moment to moment decision making abilities, and equip ourselves with tools that facilitate an ease into eclectic skills.
And, in our sensing bodies, to constellate together as a group and feel a sense of belonging to investigate this form as a whole. 
This intensive is for dancers who have a grasp on the fundamentals of CI. If you have doubt on your abilities, please reach out.