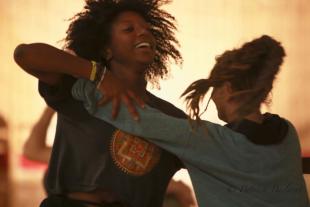 !!Please register until Saturday 13.10.!!!
CONTACT IMPROVISATION & EMBODIMENT FESTIVAL
1.-5. November 2023 in FREIBURG
We warmly invite you to this festival, working with experiential somatic disciplines and contact improvisation.
This new and warm event for the contact community gives us lots of opportunities to be together, dance, celebrate, sing, eat and share! Through dance & body awareness practices we reconnect with our vitality and joy.
We will have a well balanced schedule with many classes and wonderful teachers and musicians. Our rich program
gives us plenty of time and space to dive into sensing, feeling and dancing.
The teachers will ofer experiential and skill building classes. The heart of the festival will be our contact improv/embodiment jams, co-created by wonderful musicians.
Join us for a festival in Freiburg, where we come together as a community to dance, share and play!

TEACHERS SO FAR:
Sandra Hanschitz, Patricia Baquero, Daniel Werner, Nadja Schwarzenbach, Irina Trippel, Melanie Seeger.
Live MUSIC.
SINGING CIRCLE: Viola Schäfer
Organic, vegetarian SOULFOOD by our fabulous chef Lorén Rosenbaum
Registration is open:
https://forms.gle/JyrSz5u5w19WJLu69
Festival Fee:
340 - 290 Frühbucher/ early bird bis ende August /till end of august
410 - 350 ab 1. Sept / from 1st of sept

----------------------------
More infomation: https://bodymindpresence.de/kalender/
Telegram:
https://t.me/+F_iqAfc88WgwNjYy