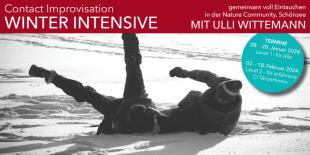 Contact Improvisation WINTER INTENSIVE 2024
at the Nature Community, Schönsee, Bavaria, Germany

LEVEL 1  &  LEVEL 2 with Ulli Wittemann

<<< registration is open! >>>

LEVEL 1 – 8 to 28 January 2024
three weeks of focused training – for all levels


LEVEL 2 – 2 to 18 February 2024
2,5 weeks of focused training – for experienced CI dancers
In the Winter Intensive you have the chance to dive really deep into the form of Contact Improvisation, going for three to six weeks of ongoing practice and intense training with a very experienced teacher in a group of dedicated dancers.
We will feed our bodies with a lot of technical tools and tricks, engage our mind longing for a deeper understanding of what we are doing when we are dancing CI and inhabiting a human body. And yes, we will nourish our soul, craving for an environment of heart-open like-minded humans, where artistic expression is just as important as fresh air, healthy food and sunlight.
We will start with the floor, connecting with gravity and our breath and inviting a deep listening as a base of contact from body to body.
From Floor Work to Shoulder Lifts, engaging in discussions and watching videos, working extensively in the studio and use the nature as a landscape to immerse ourselves… losing ourselves for finding something new. Together.
Be ready for a transformative experience in your dancing and in your life. I already feel honoured and excited to be your guide on this journey,
Ulli Wittemann
DATES of the WINTER INTENSIVE 2024

LEVEL 1
Arrival: Saturday or Sunday, January 6st or 7th 2024 during daytime (10 AM to 10 PM)
Beginning: Monday, 8th in the morning
We will finish on Sunday, 28th at 14:00
 
 
LEVEL 2
Arrival 1st or 2nd of February
The program starts with dinner on Friday evening, February 2nd
We will finish on Sunday 18th at 14:00

PLACE
Nature Community,
St.-Hubertus-Weg 1,
92539 Schönsee
events@nature-community.de

The first ten spots for each event is 200 € cheaper then the rest of the tickets.

For more info on content, prices, the registration for LEVEL 1 and the application for LEVEL 2,
check www.consciouscontact.de