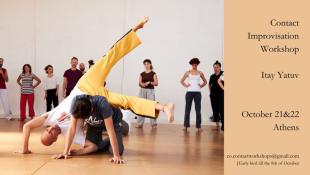 50 Shades of Great
Description
Lately I've been diving into the notion of the BEGINNING of a dance, how long is 'a beginning'? What makes this part so unique and important?
A class will start with exploration of movement skills on our own such as floor work, falling into the floor, using momentum, and arraigning our limbs to meet the floor in an effective way. With a partner we'll try to do the same.
Then, there's the dance. When does something work? Why? I'm interested in the learning process which happens within the duet. Through games and different tricks, we'll try to disrupt our habits and discover new ways of challenging our borders. It might be hard but it's got to be fun!
Βio of Itay Yatuv 
Former Artistic director of the Hakvutza Dance School, Itay has been practicing and teaching CI for 20 years. Trained as a contemporary dancer in New York, Italy and Israel.
Itay is an Aikido practitioner, a practice he integrates in his dance work.
In the last decade, Itay has been developing the Contakids method which invites children and parents to play together through movement and touch.