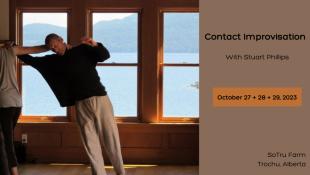 Contact Improvisation Workshop with Stuart Phillips
All levels are welcome.
About the workshop :
This CI Dance Workshop sufficiently explores our potentially unexplored psycho-emotional aspects within specific inter-relational movement.
We'll dive deep into our internal landscape whilst relating, our unknown, unexpected, surprising aspects of physical & energetic relating, how these experiences affect & change us, as we confront more uncomfortable, yet exciting & relieving mental/emotional truisms.
We'll gently choose partners with highly intuitional guidance that potentially trigger our patterns, giving us ample chance to move through any stuck internal places with the help of exact experiential awareness.
This guided process is meant to enhance our personal evolution/development quickly & safely.
Stuart Phillips dances CI as a healing process for 40 years, teaching, performing & researching said form worldwide
stulips.org
When:
October 27th, 28th, 29th 2023
Location:
SoTru Farm
331062A, Range Rd 234
Trochu, Alberta T0M 2C0
Schedule:
Friday
Arrival- 4 pm
Dinner - 5-7
Opening / Jam- 7-late

Saturday
Breakfast 8 am - 10 am
Morning workshop 10 am- 12:30 pm
Lunch 1230 pm - 2:30 pm
Afternoon workshop 2:30 pm - 5 pm
Dinner 5 pm - 7 pm
Jam 7 pm - late

Sunday
Breakfast-8 am - 10 am
Morning workshop 10 am - 12:30 pm
Lunch 1230 pm - 2 pm
Afternoon workshop 2 pm - 430 pm
*Please note the weekend workshop ends on Sunday at 5 pm*
Food :
Nutritious, wholesome and organic food will be provided.
Breakfast + Lunch + Dinner + Tea + Snacks
*Please note that we will not serve a full dinner on Sunday after the last workshop but there will be some light food/snacks to take with you on the road*
Please send any dietary restrictions when you register !
Cost:
Sliding scale $300-400
About the space:
We will be gathering at an incredible historic site that was once the original town of Trochu. All of the original buildings are intact and lovingly being restored by the family that will be hosting us. Workshops + dancing will take place in the Stopping House. Lodging + eating + will be in the main house ( which once served as a bed and breakfast ). Please note the sleeping arrangements will be communal style in the lower level of the house ( ~20 folks have slept in the area for previous events ). If you desire a private bedroom + bathroom - our lovely hosts will accommodate for an additional cost of $75 dollars for the weekend. Please reach out if this is something that interests you as rooms are limited.
Bringing your own bedding ( sleeping pad + pillow + blanket ) is ideal. Please reach out if this feels cumbersome or not possible and we can figure something out! Another note- there is no bathroom in the stopping house - however there are plenty in the main house which is a very short walk.
To register for the workshop lease email tyenneb@gmail.com with your name & I will provide more details about the workshop + payment info.
Many thanks & looking forward,
Tyenne & Stuart