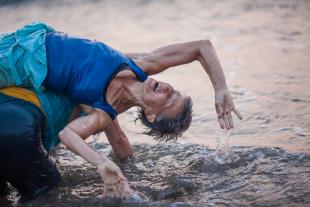 This retreat is an encounter with our body, sensitivity, ability to perceive new things and let go of the unnecessary.
Every moment of practice is designed to give the body care, and in return to get the secrets of movement and self-expression.
Our journey is not outside, but inside the body's wisdom, from childlike safe patterns on the floor to fearless jumps from a roof...
We will warm up with various exercises and games. Relax through release technique and bodywork. Explore breathing, listening, witnessing. Include Aikido elements. Study the structure of the body, its alignment, the movement of liquids and skin sensations. Integrate these structures, compositions, states of awareness in the dance. Authenticity. Use jams and performance formats.
We will work in the dance studio and outdoors. Nature will take us in, teach us about the flow of life.
Authentic movement will be our guide to understand how to communicate with ourselves and others. How to share time, space, silence and contemplation. Sharing time will help us building community spirit as well as individual uniqueness.
We are going to explore the game of the four elements - Water, Air, Earth and Fire. We are going to create a space for those elements to appear in the body, in the space and in the dance. Expanding, exploding, feeling the flow, opening our curiosity towards the movement and stillness, silence and sound.
Allowing these qualities to enter our daily life. A silent day will support nonverbal communication. This can help us refining our ability to communicate authentically, innocently. It can connect us to a simple joy.