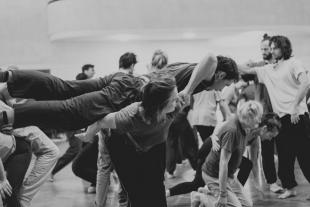 Gemeinsam den wunderschönen und spannenden Weg zum Boden finden. Weich Landen. Und
lässig wieder auf die Beine kommen.
Wir werden mit Feldenkrais Lektionen starten und Wege in und aus dem Boden zuerst im Solo
erforschen. Wie falle und lande ich weich? Wie komme ich mit Leichtigkeit wieder in die Höhe?
Anschließend werden wir mit Möglichkeiten spielen, um gemeinsam die Ebene zu wechseln. Wir
werden uns gegenseitig zum Fallen einladen, uns beim Fallen begleiten und miteinander fallen. Wie
kann ich als Overdancer ein Angebot zum gemeinsamen Fallen machen? Was passiert, wenn ein
Underdancer plötzlich fällt?

ENGLISH "An invitation to fall - from Feldenkrais into Contact"
Finding beautiful and exciting ways into the floor together. Landing softly. Rising back onto our
feet with ease.
We'll start with Feldenkrais lessons to explore pathways into and out of the floor in our solo
movement. How do I fall and land smoothly? How can I rise back to my feet effortless?
Then we'll play with changing levels together. We'll invite each other to fall and accompany each
other in the falling. How can I invite to fall together as an overdancer? What happens if the
underdancer suddenly falls?
Lui Claudia Springer
ist eine neugierige Bewegungsforscherin, begeisterte Feldenkrais Praktikerin, leidenschaftliche                             Contact Improvisation Tänzerin, ganzheitliche Tanz- und Bewegungspädagogin, freiheitsliebende Radweltreisende, naturverbundene Bergsteigerin und ehemalige Leistungssportlerin in der Sportart Rudern.
Sie unterrichtet die Feldenkrais Methode, Contact Improvisation und Authentic Movement, ist
Organisatorin der Wiener Winterjam und hostet die Contact Jam in St.Andra‑-Wördern. Als
Leistungssportlerin hat sich Lui schon früh intensiv mit der Optimierung von Bewegungen
beschäftigt. Sie erforscht begeistert die Frage: Wie wird eine Bewegung noch angenehmer,
leichter und effizienter? Die Vielfalt an Bewegungen und die Möglichkeiten durch Bewegung
und Tanz zu lernen faszinieren sie.
www.freibewegt.at
Lui Claudia Springer
is a curious explorer of movement, enthusiastic practitioner of the Feldenkrais Method,
passionate dancer of Contact Improvistion, holistic dance and movement pedagogue, freedom
and nature loving cyclist and mountaineer, former competition rower.
She is teaching the Feldenkrais Method, Contact Improvisation and Authentic Movement,
organizing the Wiener Winterjam and hosting the Contact Jam in St.Andra‑-Wo‑rdern. As an
athlete Lui was engaged into optimizing movement from her teens on. With great enthusiasm
she is exploring the question: How does a movement become even more comfortable, smoothe and filled with ease? The variety of movements and the possibilities to learn through
movement and dance are faszinating her. www.freibewegt.at
Weitere Informationen:
Wann und Wo:   
Samstag, 14.10.2023 10-17 Uhr,                  
Sonntag, 15.10.2023 10-16 Uhr
Dojo - Raum für Wegkunst & Stille e.V.
Udetstraße 8, 93049 Regensburg
Kosten:                   
Early Bird: bis 22.09 (inkl. Überweisung): 160 Euro
Normalpreis ab 23.09: 195 Euro
(für die Workshopteilnehmer_innen ist die Abendjam incl.)                                
Übernachtung:       
Übernachtungen sind im Tanzraum für einen Aufschlag von 15 Euro möglich.
Bringe dazu bitte ein Isomatte und einen Schlafsack mit.
Vor Ort gibt es auch Duschen und eine Ausstattung fürs Teekochen
Verpflegung:           
Samstag Mittag: gemeinsames Mittagessen beim Restaurant ums Eck (wer will)
Sonntag Mittag: gemeinsames Picknick (jedeR bringt etwas mit)
Mitfahrgelegenheiten:
https://docs.google.com/document/d/1U-Gw1vpsIXsa2nrrz5xSun6h4E9lhYvW0jWqqheqoNY/edit
Anmeldung:
Schicke bitte eine Mail an: judith@contactimpro-regensburg.de
Schreibe bitte hinzu: ob du in der Halle übernachten willst oder extern unterkommst
Nach Eingang der Mail schicken wir dir eine Antwort ob noch Plätze frei sind und falls ja die Kontodaten, wohin du deinen Teilnahmebetrag überweißen darfst. Mit der Überweißung ist die Anmeldung verbindlich. Sollten wir innerhalb von 5 Tagen nach Antwortmail keinen Zahlungseingang haben, werden wir die Plätze wieder freigeben!
Wir freuen uns, wenn du dabei bist!