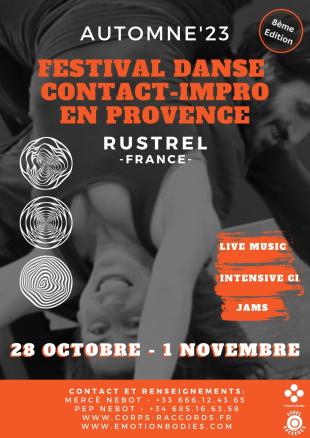 Contact Improvisation Festival En Provence – Rustrel (Provence) – July 15-21 2023 - VIII EDITION (SUMMER)
Contact Improvisation, Workshops, Jams, Underscore, Live music, Nature.
All info and registration forms: https://www.emotionbodies.com/events/57-festival-contact-improvisation-provence-rustrel-autumn-2023.html 
VIII edition of the Festival de Danse Contact Improvisation de la Provence, in Rustrel, one of the most beautiful villages in France, located north of Apt and at the foot of the Monts de Vaucluse. A unique opportunity of immersion for 5 days, for 35 participants, to experience an exploration of dance and movement with quality workshops, jams, live music and many other proposals to share.
To whom we address: The event is open to anyone who wishes to share and learn about Contact Improvisation Dance. Space open to all levels, beginners and experienced dancers.
Days and hours: From Saturday October 28th at noon to Wednesday 1st in the afternoon.
Places available: Limited to 35 and will be accepted in order of registration.
Location: Rustrel (Provence). Professional dance space with a high quality wooden dance floor.
Food: Vegetarian meals concocted from fresh, quality products and supplied in a short circuit as much as possible. Silvia will be our professional cook. https://www.instagram.com/cuinaanonima/
Festival philosophy
This festival was born from an initiative between a brother and a sister and their passion for dance. Mercè Nebot, who has lived in French Provence for 20 years, and Pep Nebot, who lives in Barcelona, have joined forces to create this space for sharing dance, creation and beauty.
At each edition, people of different nationalities have gathered for the Festival, in particular from France and Spain, but each year other nationalities join us, which is very enriching and allows the establishment of a cultural bridge around art, dance and creativity.
In this festival we want to prioritize some approaches:
• Quality pedagogy in Contact Improvisation dance to promote better body awareness;
• Welcoming a small group that will live together for a week an intimate and profound human adventure. We want to generate a sense of belonging to the group and a sense of community, by creating an inclusive, generous and supportive environment;
• Contact with nature, surround yourself with aesthetic beauty and charismatic villages of the deep Provence;
• The cultural exchange between participants, locals and international visitors; We have already experienced on many occasions that, when people with different cultures and life experiences get together, we all grow in a spiral of creativity and self-knowledge;
• Live Contact Improvisation in its essence, with its living principles present at all times: self-respect and respect for the other, sense of group, security and creativity, movement in gravity, contact, attention and self-knowledge, among others.
The facilitators.
Below there is a more detailed description of the participants and their workshop proposals. Here there is a short synthesis:
• Pep Nebot - (Barcelona) - Contact Impro dancer for 15 years, he has participated in workshops with Nancy Stark and in more than 20 international Contact festivals. He also professionally practices contemporary and acrobatic dance. https://www.youtube.com/watch?v=qe6UhdNHmvw&ab_channel=EMotionBodies 
• Marta Bonet - (Barcelona) - Practicing contact improvisation for more than 20 years, she has participated in training courses, workshops and festivals in Spain, Argentina, Germany, Finland, etc., as well as CI ECITE teacher meetings and the celebration of CI36 in the United States.
• Mercè Nebot – (Barcelona-Provence) – Dancer and Instructor of Wutao and free dance. With her own creation ORGANIK DANCE, she will offer us a free dance workshop that will bring us closer to our interiority and our natural potential for joy.
• Sébastien Prats (France) : Pratique vocale et Jam music. Auteur, compositeur et interprète autodidacte depuis plus de 20 ans, Sébastien Prats offre une originalité artistique qui transcende les frontières. Proche de la nature et de ses énergies, il y puise son inspiration, sa poésie et sa capacité de créer des espaces sonores magnétiques, envoûtants et singuliers.
• Silvia (Catalunya) – Professional cook with a vast experience cooking for groups in events of many kind. She cooks vegetarian, bio and always try to use high quality local providers. https://www.instagram.com/cuinaanonima/
STRUCTURE OF THE INTENSIF
"Listening, Presence, Fluency"
The approach will be through the exploration of the Contact Improvisation (CI) technique from which to investigate the law of gravity, the direction of weight, inertia, etc., with the intention of being present and aware of the subtleties. to go beyond the mechanical and expand bodily sensitivity.
There will be solo, duo, trio and group work. We will work on finding a state of bodily intelligence to listen to the subtleties, be available and at the same time we will explore the physicality of more acrobatic movements.
We will work to let the gains really happen, following the direction of the real weight, being available to make decisions in contact with our interests of movement and play and at the same time co-creating a joint dance with fluidity.
The technique is worked from a place of alertness and maximum awareness of openness and body sensitivity to acquire not only new technical tools, but also to become aware of one's own resources and expand body awareness.
Open to people with all levels and backgrounds.
Structure of the intensive
The structure of the intensive will be two hours of class with proposals to deepen the principles of Contact improvisation, a short break, and then a proposal to be able to practice and explore the tools acquired with a group structure.
They will be practices such as: Contemplative Dance practice, Underscore, Small Dance, Round Robin, Focus Jams and group improvisations.
https://www.youtube.com/watch?v=qe6UhdNHmvw&ab_channel=EMotionBodies 
About Rustel

Rustrel is a village located north of Apt and at the foot of the Monts de Vaucluse. Its open-air ocher quarries, fully exploited in the past, have made it rich and continue through tourism with those of the "Colorado Provençal". Its dirt trails allow you to discover eroded cliffs with more than 20 shades of ochre2, hoodoos, etc. They date from the Cretaceous and are composed mainly of ochreous sands, white sands and ferruginous cuirasses.
The privileged environment: The Provençal Colorado extends over more than 30 hectares, in the Luberon massif, about 10 km from Apt1. Marked trails run through former ocher quarries with more than 20 shades of ochre. The site includes the "Cirque de Barriès", the "Cirque de Bouvène", settling basins, fairy chimneys (dangerous area prohibited by municipal decree), the "Sahara", the bed of the Dôa (small local river) . The GR 6 long-distance footpath crosses the site. The colors of the ochres of the Provençal Colorado contrast with the shades of green of the vegetation and the white of the surrounding limestone massifs.
Accommodation
XII century Château de Rustrel located in the center of the village
This XII century castle has recently been restored and we continue to add a new touch to it every year. Nevertheless, it is a princely stopover that is offered to you with dinners in the amphitheater at the foot of the castle on sunny days, rooms for 2 and dormitories with 3, 4 and 6 beds and a large common room in ground floor. As it is in the center of the village, it is also an opportunity to take a short tour of the oil mill or simply listen to your footsteps echo in the cobbled streets.
We will have the chance to stay together in this historic building and meet there at every meal to share unforgettable moments.
PRICES & REGISTRATION
Price WITH accommodation in Rustrel castle (ony 25 beds):
Early Bird until June 26, 2023: €340
After June 26, 2023: €370
Price WITHOUT accommodation in Rustrel castle:
Early Bird until June 26, 2023: €270
After June 26, 2023: €300
To reserve the place, you must pay the deposit of €100, and the rest can be transferred or paid in cash at the event.
What is included in the price:
Accommodation in Rustrel Castle in shared rooms. People will be distributed as they register. (for those who pay the price with accommodation).
All lunches and dinners, with organic vegetarian cuisine.
Use of the common spaces of the castle, dining room, bathrooms, terraces, etc.
All workshops and jams.
Liability insurance.
What is not included in the price:
Breakfasts (the dining room of the Castle will be available to all participants).
REGISTRATION AND PAYMENTS
To reserve your place you must register in the registration form and pay the deposit of €100 to confirm your reservation, and the rest can be transferred before the event or paid in cash on the first day of the event.
The transfer of the deposit can be made to a Spanish or French bank, or by Paypal:
• Spanish bank: IBAN: ES47 0081 0900 8000 0334 3240SWIFT: BSABESBBXXX (Owner: José Nebot Muns)
• French bank: IBAN : FR76 1390 6001 4200 1891 0602 595 / BIC : AGRIFRPP839 / Association Corps Raccords
• Paypal: emotionbodies@gmail.com
When making the transfer, write in the concept "your name and surname + Festival Provence". For international transfers, make sure that the amount being sent is free of bank commissions.
Contact and information:
- Contact in France: Merce Nebot +33 666124365, mercenebot@hotmail.com
- Contact in Catalonia: Pep Nebot +34 685166358, info@emotionbodies.com
 
Detail of the team of facilitators and their workshop proposals:
Pep Nebot - (Barcelona)
With 15 years of experience as a Contact-Improvisation (CI) dancer, he has participated in intensives with Nancy Stark Smith, Martin Keogh, Leilani Weiss, etc., and in more than 20 international CI festivals; He is also very involved in the formation and organization of contemporary acrobatic dance and Contact Improvisation events, and has co-created the Festival de CI en Provence in France for 6 years. Prior to his immersion in dance, he bodily engaged in semi-professional rock climbing for 20 years. He is interested in the paths that lead to the authenticity of the present moment and the constant curiosity to inhabit the force of gravity, emotions and contact with oneself and others to integrate into the dance.
 
Marta Bonet (Barcelona)
Contact improvisation practitioner for more than 20 years, participating in trainings, intensives and festivals in Spain, Argentina, Germany, Finland, etc., as well as in CI ECITE teacher meetings and the CI36 celebration in the USA. She has received classes from great teachers such as Nancy Stark Smith, Martin Keogh, Ray Chung and Mirva Makinen. She has co-created and co-organized the 9 editions of the Ibiza Contact Festival. In addition, she is trained in different body techniques such as Butoh dance, capoeira, improvisation and contemporary dance. She is a teacher by profession and is currently finishing her training in Integrative Body Therapy. She is very interested in exploring tools to develop presence, bodily availability and expanding the capacity to flow with what is true that is happening in dance, from pleasure, as well as in contact with oneself and with the other.
Sébastien Prats (France)
Deux racines portent mon expérience professionnelle: Une expérience de plus de 25 ans dans les domaines de la production musicale, création artistique, spectacle, concert, scène en tant qu'interprète et organisation d'évenements. Une formation et une pratique d'enseignant depuis plus de 10 années dans les domaines du bien être, de la santé, de la relaxation et la méditation. https://www.sebastienprats.com/
Workshop proposal: Spontaneous singing.
A sacred space-time to find yourself in yourself and together in a fraternal, creative, joyful spirit. Free from the sounds, the gestures to which our body aspires, we will untie, energize the space through song and dance, sound and movement in co-creation. Our body evolving on a daily basis leads us to experience and feel a number of emotions that cannot be verbalized, out of syntactic or unconscious. This improvised singing space-time is made to liberate the body, connect with direct expression and digest the emotional speaking of this material. This group practice has the effect of calming the mind and strengthening confidence, self-esteem and inner joy.
Mercè Nebot – (Barcelona-Provence) :
Dancer and Instructor of Wutao and free dance, with her own creation ORGANIK DANCE, she will offer us a free dance workshop that will bring us closer to our interior and potential.
 
----------------------------------------------------------------
CANCELLATION POLICY: If the workshop is canceled for a reason attributable to the organization or beyond its control, the organization has the obligation to refund the total amount paid by the participant. If the participant cancels, we regret that we cannot make any refunds, due to all the administrative work and in order to ensure the sustainability of the event. Make sure you have the dates available.
PROTECTION OF PERSONAL DATA: In accordance with the provisions of current regulations, we inform you that your personal data will be incorporated into a file owned by Associació E Motion Bodies Handstand. You can exercise your rights of access, rectification, cancellation and opposition by writing to emotionbodies@gmail.com.
IMAGE RIGHTS: By completing and submitting this form, you authorize Associació E Motion Bodies Handstand to take photos of you to illustrate the materials for the dissemination of the activities that are carried out. The images can be broadcast on any medium (TV, press, internet, external media, promotional material, social networks, etc.). Distribution may only be made free of charge and for the purpose of disseminating the activities of the Associació E Motion Bodies Handstand. This authorization is completely free of charge and you agree not to claim any compensation, payment and / or indemnity in exchange for the authorization agreed with the Associació E Motion Bodies Handstand for the use of your image or the person that you represent.