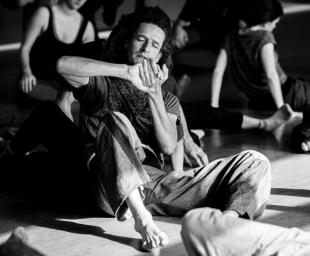 7.10.-8.10.2023
Cologne, Neusser Str. 26
Optional Friday 20-23 (Contact Jam)
Saturday 11-16 & 19-22
Sunday 11-16
Saturday evening is open for everyone: Contact Improvisation and Authentic Movement. (20 EUR)
Price 160 EUR
Early Bird 120 EUR until 30.8.23
Food and accommodation not included
Spaces are limited. Dancefloor with 220 sqm soft tatami mats.
INSIDE-OUTSIDE-ONE
The workshop offers space to explore presence and movement in Contact Improvisation as a way for us to relate to ourselves, the space, and others. A shared group somatic process allows us to build trust in the group and experiment together.
In mindful movements, first alone later with others, we focus our attention on inner sensations. We explore different intensities, identify our habits and open a space for new possibilities to relate to ourselves and others. Guidelines can be efficiency, freedom, playfulness, and a sense of ease.
In different setups we explore textures and properties in the body. The level of skin, connective tissue, muscles and organs, and bones allow us to relate to others in very specific and subtle ways. We deepen the experience of self-discovery and authenticity.
Bone structures allow us to rise from the earth and carry others. An exploratory space for carrying and being carried by each other emerges using the techniques of Contact Improvisation. Basic movement patterns/lifts dissolve into subtle presence and alertness as the dance unfolds in the moment.
Exploring with eyes closed, using elements of Authentic Movement, can make visible to us a deep inner, often unconscious truth. In the role of "witness," we develop our ability to distinguish more accurately between our perception of what is actually happening physically outside, our evaluation, and our inner images.
In sharing, which is a central part of the overall experience, we move from nameless impressions of experience to words and phrases that reflect what we have experienced. This promotes awareness of how we communicate, where we evaluate, where we talk about ourselves, our inner images and feelings. Speaking out the experience is an integrative section that leads us from the unconscious, intuitive into the conscious and thinking and thus has a connecting and healing aspect.