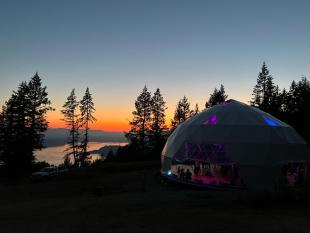 Join us for a 3 day immersion in Jamming Contact Improvisation Dance. For Jam into the Fall 2023, we are envisioning a relaxed, playful, participatory & co-created space. Jamming contact improvisation in extended sessions is a gateway to a deep embodiment of the form in its physical, social, emotional, spiritual, non-linear & timeless ways. It is a time to practice what we know and what we have yet to discover.
- There will be some facilitation, and lots of jam time.
- We will be pulling inspirations from different scores & jam formats to take us into the dance.
- Silent space in Focus jams will be maintained in a way to enrich the soil of our communal experience.
-There will be a musical jam on Saturday evening.
DATES AND SCHEDULE::
September 22nd, 23rd & 24th 2023
Arrival date is Sept 21st and departure is on the 25th in the morning.
We will dance from 10am until late evening every night.
The dance space will remain open at all times. 
~30% Facilitated, 70% Jams
FACILITATORS::
Manuel Rochette
Selena La Brooy
Shashah Klapkew
LOCATION::
Rhizome Springs
An off grid situation where everyone can camp and live together for the duration of the event. The views are incredible, the lakes and oceans just a short drive away. We are presently in terraforming stage. Expect a rugged landscape. The property is 20 min on a logging road which can be driven by regular cars. It's located 25 min from Fulford Ferry terminal and 40 min from Ganges.

FOOD::
All food is included in the tuition.
We source from local and organic foods as much as possible.
Meals are wholesome, diverse, fresh, yummy and abundant.
We consider every food restrictions.
We care for your health and aim at the impossible fart free diet.
CAMPING::
Camping is included in the tuition.
We are on a 40 acre property and there is tons of camping spots to chose from. We have cold showers available. We use compostable toilets. We are on a sensitive ecosystem and count on you to respect and honour this land by cleaning up after yourself, preserving water, being fauna and flora aware and embody the animal this land asks for.
CABINS
The Buddhist Centre located next door is offering simple and modest private cabins to rent.  
Prices are between 50$ & 55$/night depending on the type of accommodation you choose. They all includes outhouse and hot showers. 
Inquire if interested and we will send photos.

For more info, please visit the website: 
https://www.contactimprovisationsaltspring.com/