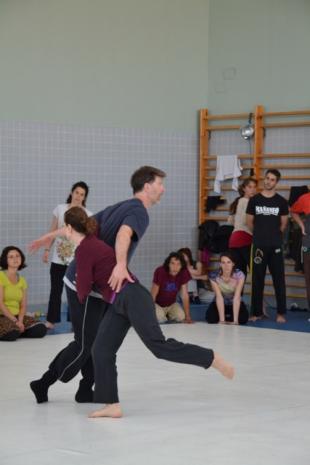 Monday Beginners Course November/December 2023 - 3 Class Series 
Mondays 6:30-8:30pm: 27th November, 4th and 11th December 2023
Classes co-taught by Rick Nodine and Sole de la Hoz.
This three class series aims to support new dancers in learning the basics so they can feel confident about joining the Open Wednesday class and Jam. The classes will make it clear how to communicate with a partner through touch. The course will support beginners in understanding the conceptual and physical world of CI so that they can trust their own opinions about what they want as they dive into the CI experience.
Class 1: A talk about what CI is and what to expect from it, physical exercises about how to move comfortably in close connection with the floor, exercises about communicating with a partner through touch, discussion of consensual touch and freedom of choice in dancing.
Class 2: Exercises about exchanging body weight with a partner and how to get in and out of contact with a partner.
Class 3: Exercises about how to fall and roll safely, exercises that integrate previous learning into free dancing and Jamming
Tickets: Full Course of 3 classes: £40 (£33 Concessionary)
Stand alone class: £15 (£12 Concessionary)
Where: Acland Burghley School Sports Centre, Churchill Rd, London NW5 1AN (5 min walk from Tufnell Park Tube, 10 min walk from Gospel Oak Overground and 12 min walk from Kentish Town Thameslink, N.B. Kentish Town Tube is closed until 2024)
Who: Everyone is welcome.
Info: dancenodine@gmail.com