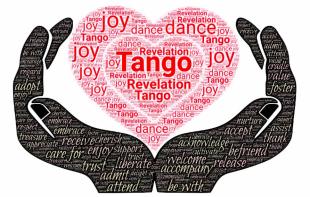 Somatics/CI
Tango Argentino
Contact-Tango
Neo/Alternative Tango
Folklore
Music


In the wonderful venue of GutFrohberg, 7 top teachers will share their passion and knowledge with us all. They developed their own sensitive way of teaching/facilitating, combining multiple interests and specialties.
Whatever your tango experience is, you can join us and find your own way in!
By calling on body's intelligence, we get into tango from body awareness,  we can play to deepen your dance technique.

Revelation Tango offers a tango 'road trip' along known and unknown paths. We  aspire for all dancers to connect in a soft, playful, musical embrace/connexion, in total respect for each other. Whatever style, whatever role, and whatever music you prefer, we look forward playing with connecting, sharing all the same floor !
With Gabriele Koch, Frédérique Mirande, Vio, Daniel Adrenaline, Roberto l'Ange, Ruth Rozelaer & Korey Ireland.
You choose if you join for 2, 4 or 6 days


All info on the Website (Deutsch/English)
https://www.revelationtango.com/