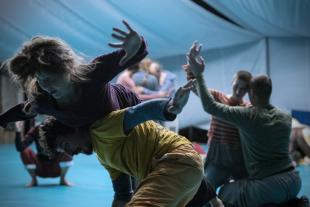 This festival is challenging the teachers and participants as we do not say a single word from the first to the last circle.
Based on the experience of the previous two festivals, we can say that it leads to an incredibly deep dive into contact, into the body, into reality. We are deeply convinced that words exist in order to define differences, and the real unity can be found beyond thoughts and words.
We are gathering in Georgia from all over the world, from more than 40 countries from all continents. Silence allows us to be united in touch, in presence, in dance - we become whole and move from the whole. This remains in soul. It changes life. Not everybody gets in, but those who get in won't be the same anymore.
We will be happy to see old and new friends in 2020!
Intensives:
- Alicia Grayson (USA)
- Tim ODonnell (USA)
Classes:
- Asaf Bachrach (France)
- Ekaterina Basalaeva (Siberia)
- Dorte Bjerre Jensen (Denmark)
- Ady Elzam (Belgium/Israel)
Special bodywork guest Christine Cole (USA)
Georgia is an amazing country with beautiful nature, lovely people and scrumptious food. Plan your Indian Summer now  :)
Dates:
- September 20 - 26 - Silent Festival
- September 27 - October 3 - Dancing Date
- October 4-14 - Contact Journey
Links:
https://www.facebook.com/events/1127021044354087/
https://www.facebook.com/events/395362327815763/
http://georgiancontactfestival.com/silent
Join the events, invite your friends, take your spot!
Registration is open!
Dreams come true!