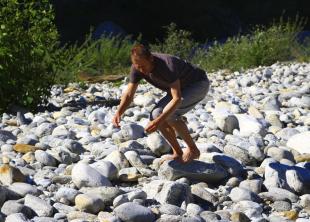 Das Potenzial der Contactimprovisation wird in den meisten somatischen Praktiken noch wenig genutzt. Die von Patrick Collaud angeleitete Körperarbeit basiert auf der CI, sie ist dialogisch, tänzerisch, verspielt, improvisiert, experimentell, reflektiert, kreativ, stimmungsvoll und philosophisch. Zudem erlaubt die Arbeit in der Natur eine Rückbesinnung auf das Eigene, das Wesentliche.
Dieser Herbstworkshop im Tessin sprecht Leute an, die mit Bewegung und Körperarbeit vertraut sind. Sie bilden die Gelegenheit, CI und Körperarbeit intensiv in einer einzigartigen Umgebung zu praktizieren. Wir arbeiten täglich im Bewegungsstudio und an unterschiedlichen Plätzen in der Natur, in den nahen Hügeln, auf verwunschenen Alpen und an einsamen Orten am Wasser. Wir arbeiten ungefähr zu gleichen Teilen im Tanzraum und in der Natur.
The potential of contact improvisation is still little used in most somatic practices. The bodywork led by Patrick Collaud is based on CI, it is dialogical, dance-like, playful, improvised, experimental, reflective, creative, atmospheric and philosophical. In addition, working in nature allows a return to one's own, to the essential.
The courses in Ticino appeal to people who are familiar with movement and bodywork. They are an opportunity to practise CI and bodywork intensively in a unique environment. We work daily in the movement studio and in different places in nature, in the nearby hills, on enchanted alps and in lonely places by the water. We work approximately equally in the dance space and in nature.