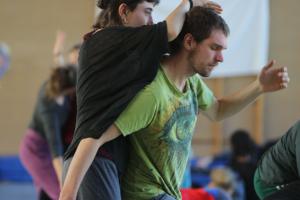 I'm a dance teacher , yoga instructor,  bodyworker, musician, nurse and event organizer. 
I organize events in the fields of contact improvisation, bodywork, yoga, singing and music.
When I was a kid I practiced judo for approx. 6 years. There I learned learned deeply about physical awarness, subconscious reactions, attention and the physicalities of gravity, momentum, pressure, counter pressure, balance and speed.
When I encountered CI in 2017 for the first time , I fall completly in love and could not stop doing it and going deeper in my study. I learned from teachers  from all over the world (Vega Luukkonen, Jörg Hassmann, Karl Frost, Yaniv Mintzer, Tim O'Donnell,...) Soon I started sharing my knowledge with friends and workshop participants. I taught in private, at rainbow gatherings, at festivals and at self organized courses. I continuously research on topics of my interest and keep on learning with various teachers.
What I love about contact improvisation is that the art is happening in the moment and is thus transient and simultaneously ever new, surprising, spontaneous and unpredictable. There is always something deeper or hidden to explore.
Since 2007 I practice yoga on a regular basis. In the past I was the manager of the seminar operation team at Yoga Vidya Bad Meinberg (a seminar centre, that can host up to 600 guests). There I learned a lot about running a seminar centre and organizing workshops, courses, wellness holidays, retreats, teachers trainings courses, festivals and conferences.
I practice thai massage and have experience with dearmouring.
As a musician I focus on improvisation, too. I play percussion and trombone.