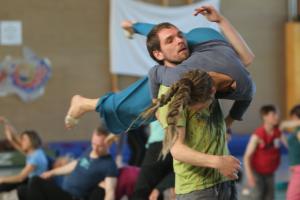 I'm a dance teacher , yoga instructor, bodyworker, musician, nurse and event organizer.
When I was a kid I practiced judo for approx. 6 years. There I learned learned deeply about physical awarness, subconscious reactions, attention and the physicalities of gravity, momentum, pressure, counter pressure, balance and speed.
When I encountered CI in 2017 for the first time , I fall completly in love and could not stop doing it and going deeper in my study. I learned from teachers from all over the world (Vega Luukkonen, Jörg Hassmann, Karl Frost, Yaniv Mintzer, Tim O'Donnell,...) Soon I started sharing my knowledge with friends and workshop participants. I taught in private, at rainbow gatherings, at festivals and at self organized courses. I continuously research on topics of my interest and keep on learning with various teachers.
In my teaching I highlight joyful movement, individual expression and to give a somatic foundation to find an effortless and fluid dance.
What I love about contact improvisation is that the art is happening in the moment and is thus transient and simultaneously ever new, surprising, spontaneous and unpredictable. There is always something deeper or hidden to explore.
At the CI camps that I organize, I invite all participants to take part in the creation of the content of the camp. Every participant steps once in the role of the teacher or facilitator and shares his/her research focus, score or most beneficial practices. Thus we learn from each other and experience us as community of mutual input and inspiration.