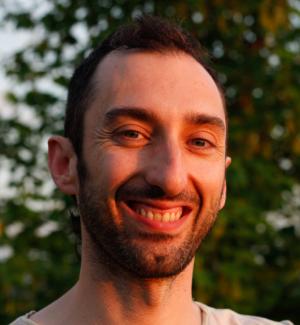 Davide Casiraghi is a dancer, Contact Improvisation dance teacher, Ilan Lev method practitioner, based in Slovenia. He is exploring Contact Improvisation since 2010.
Member of the Round Robin Project that has the aim to create tools for global networking of the worldwide Contact Improvisation community. He is web designer, developer and technical manager of the Contact Improvisation Global Calendar (CIGG) - www.ciglobalcalendar.net
Previously from 2010 to 2018 webmaster of the Contact Improvisation Italian website - www.contactimprov.it (now closed)
His study is started in Milan and continue in Europe with the many teachers. Roberto Lun, Nita Little, Martin Keogh, Angela Dony, Nancy Stark Smith are his main influences.
He see CI as a way to re-awake and enjoy fully our sensitivity and playfulness, working on trust, explore curiosity about movement principles out of daily movement patterns.

In Milan he has been co-founder of Collettivo Daimon, a CI collective that organized once a month from 2013 to 2016 the Sunday Contact Jams.
In Slovenia he is co-creator with Nayeli Spela Peterlin of Moave - www.moave.si and in Ljubljana one of the organizer of weekly jams, the regular classes and the CI festival dance in the city.
Significant teachers
Marco Zontini ('10, '11), Roberto Lun ('10, '11, '12, '13), Nita Little ('13, '14, '15, '16), Javier Curia ('10'), Vera de Propris ('13), Bernd Knappe ('12, '12, '13), Thomas Kampe ('12, '13), Daniel Lepkoff ('14), Itay Iatuv ('14, '15), Yaniv Mintzer ('16, '19), Joerg Hassman ('16), Adrian Russi ('16), Kirstie Sympson ('11), Ester Momblance ('10), Katri Luukkonen('11), Scott Wells('11), Alicia Grayson('11), Ray Chung ('12, '13), Nancy Stark Smith ('14), Martin Keogh ('15, '16), Benno Voorham ('13), Ezster Gal ('14), Patricia Kuypers ('15), Alyssa Lynes ('14), Eckard Muller ('13), Frey Faust ('14), Angelica Dony ('16, '17), Leonardo Lambruschini ('16), Jess Curtis('17), Simone Magnani ('14), Anatolliy Layaskallo ('11), Tim O'Donnell ('10), Riccardo Meneghini ('15), Claus Springborg ('14), Asaf Bachrach ('19), Romain Bigé ('19), Nuria Urcelay Martinez ('18), Leilani Weis ('20), Ramón Roig ('20)