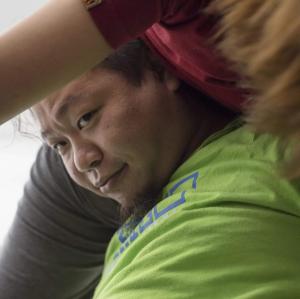 yuenjie MARU is an inclusive dance factiliator, a dancer in improvisation and contact improvisation, a live performance artist and a dancing sketcher. He explores in different art media such as drawing, writing, theatre, dance, happenings, performance art and installation art. He currently is the artistic director of Make & Move, Danotcers and the Mistakable Symbiotic Dance Troupe(Guangzhou, China).
Based on the DanceAbility Method, he is developing the Symbiotic Dance and the Symbiotic Score. He got the DanceAbility Teacher Certification in 2012 and the Contakids Teacher Certification in 2017. Besides, he also research on "Organic Dance Performance", the Underscore and the relationship between dance and drawing.
He is a memeber of the Long Dance 2018 with Nancy Stark Smith.