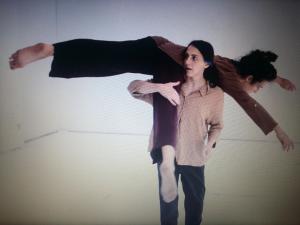 Born and raised in Bologna, Italy, Barbara Berti bases herself in Berlin.
She works on her own choreographic projects and collaborates with dance and theatre artists in performance art work through Western Europe: Isabelle Schad, Tino Seghal,
Judith Seng, Gabi Schilling. She rooted her career in graphic design, physical theatre, dance and meditation; continued studying different techniques in contemporary dance, contact improvisation, meditation, yoga, somatic works and body-mind centering approaches.
In her choreographic works she is interested in issues of kinesthetic empathy and the embodied transmission of physical experience in the interaction with the audience.
In 2014, winner of the theater dance prize HAU2-100Grad Berlin,with her solo "I am a shape in a shape, doing a shape"; with the Italian version it was selected in
Vetrina Gd'a 2016 and Premio Gd'a 2017.
In 2017 Winner in ex-quo of the Premio Scenario with "Bau #2" – From the Series BAU 'Choreography of thinking'. Since 2016 is an artist supported by Tir danza (IT)
www.barbaratopi.wordpress.com