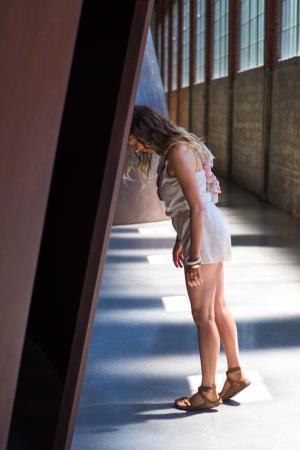 Aurora's inspirations are rooted in contemporary improvisational dance, somatics, and movement, with a particular focus on contact improvisation and body mind centering, as well as extensive experience with and training in yoga, meditation, writing, drama therapy, bodywork and ritual making. Her beloved late teacher Michael Stone translated the word "yoga" into "intimacy," rather than the habitual translation from the Sanskrit into English as "union." This is what she aims to practice and to teach, not merely in the scope of her yoga classes, but in all body-based therapeutics that she facilitates.
Aurora is a longtime yoga teacher, a practicing herbalist and a writer, as well as a movement artist. Her connection with the land and the written word are indelibly interwoven with her movement-based work. In her poetry and nonfiction, she investigates the edges of embodiment, health and illness, grief, ritual, identity, belonging, and inter and transgenerational trauma. Aurora views her movement and performance practices as a way to let the body speak directly to themes she interrogates in her writing, a non-cerebral way to access ancestry, ceremony, community, healing, and intimacy. An emphatic mover, she sees the work as both therapeutic and artistic.
Born in Montréal to two parents from Belgrade, she currently calls the latter home. She calls Movement Research in New York and Ponderosa in Stolzenhagen, Germany, her dance homes, where she has both trained and shared solo and group performances. She has lived in Montreal, Vancouver, New York, and Belgrade, and remains deeply connected to all of those places.