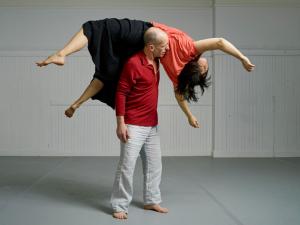 Suzanne Liska is a Certified Alexander Technique Teacher with a B.A., B.Ed, and MFA in Choreography. Her main classes include Conditioning, Somatics (Alexander Technique), Solo, Contact, and Ensemble Improvisation/Composition and advanced partnering. Suzanne has taught workshops for Collective Gulp in Ottawa, CCDC in Calgary, CINN in Tokyo, and Leviathan studio in BC and in Toronto for Randolph Performing Arts College, Ryerson University, George Brown and Humber College. She is contract faculty in York University's Dance department.
Suzanne has choreographed and danced in works for CanAsian KickStart, DanceWorks CoWorks, Dusk Dances, and Dance Matters, receiving grants and awards through York University, the Toronto Arts Council and Ontario Arts Council. She has originated in roles for choreographers Rebecca Bryant, Maxine Heppner, Pam Johnson, and Karen Kaeja. Suzanne's upcoming projects include co-creations with Takako Segawa and Heidi Chan, dance theatre with Kathleen Rea, and multi-media project with Susan Lee and J.J. Lee.
When teaching, Suzanne integrates the somatic practice of the Alexander Technique with CI. Alexander Technique facilitates embodied changes by re-directing our movements and thoughts to uncover greater ease and options while moving. She researches how to access underlying support, sensory awareness and fluidity within internally-driven movement patterns. At the Dance Science and Somatics Conference in August 2018, she presented her SSHRC funded MFA choreographic research. Suzanne's paper on the Choreographic process using CI and AT will be published in the Alexander Technique International Journal in 2019.