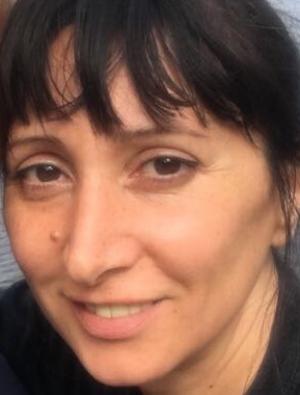 I am an interdisciplinary dance artist and educator based in London, originally from  Italy, where I enjoyed participating in competitive sports such as running and volleyball.
My first encounter with Contact Improvisation was around 1995 with Jacky Adkins (Morley College) then Thomas Kampe (Chichester University).  My studies continued with various classes and workshops at Independent Dance and London Contact Improvisation in London and abroad with various teachers.
I have been interested in 'the "I" that sees before the "eye" can see' to quote Maxine Sheets-Johnston, and have been organizing and teaching regular movement classes and events for partially sighted and blind people since 2007, most recently for Blind Aid. The outcome of those activities resulted in the article "Close your eyes and ….dance" (Foundation for Community Dance, Winter 2010) and a paper for the conference "Touching and to be touched – Kinaesthesia and empathy in dancing" (July 2011, Frei Universitat, Berlin).
In 2014 I completed the Fascial Fitness Trainer course in Germany (The Somatic Academy, Divo Muller & Robert Schleip) and attended the 30 hours Application Course for Professionals with somatic educator and psoas specialist Liz Koch. These two courses not only complement my CI practice but also feed my Pilates teachings.
Research projects include "Physic(s)al entanglements" and "Moving the small dance" at ECITE 2014/2015 (European Contact Improvisation Teacher's Exchange).
I am interested in touch, proximity and sensation; playful bodily discourses; articulating anatomy and experiencing bones, fluids, cells, mass, weight; vibrations and the body fields.
For the last 20 years I contributed to the origin and development of the fusion called Contact Tango, producing various choreographies ("AdagioconBrio, 2005, 2008 and "Approximation" 2011), organizing monthly classes in London (2005-2011) and curating four 'Tango Diferente' research weeks (2012-2015) in Berlin.
My own research contributions include: 'Body, Movement and Dance in Global Perspective' (Hong Kong), 'Touching and to be touched – Kinaesthesia and empathy in dancing' (Berlin), Colloque International 'Tango: Creation, Identification, Circulation' (Paris), 'Physic(s)al entanglements' and 'Moving the small dance' (ECITEs) and was invited to perform in Marta Savigliano's 'Wallflowers and Femme Fatales' performance lecture at Harvard University (Boston); 'The 20th Century Modern Lesbian' (Brighton), 'The Queer Tango Salon' (Paris), 'Diaspora & Embodiment of Hope: Performances of Spirit & Sustainability' (University of Surrey).
Writings include 'Performing Gender in Milongas of Buenos Aires' (2008); 'Close your eyes and …. Dance!'(2010); 'Tango Diferente: Exploring Tango and CI at Ponderosa' (2013); ''It takes two to win' (2015); "Why ContacTango" (2020).