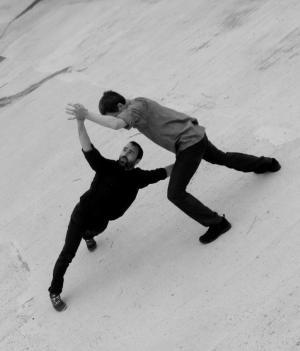 ....I found Contact Improvisation, in acting classes, to grow as an actor, I grew as a person, I grew as a dancer and I bet my life project to continue reviewing myself in art and dance.
I continued training as a psychotherapist, working in different artistic collectives such as VoArte, and with my theatre company, they proposed me to give a workshop in Granada, in 2010... and since then I have not stopped offering my vision of this dance in many cities and even in Latin America. I have the formtuna now recently to offer CI within the program SAT of Claudio Naranjo in Spain, and I walk by several festivals... and I wish to continue imparting my proposal by where it is for the good of the society and community of the CI.
My name is Dani, from Barcelona, here I accompany people and I am happy, and what makes me happiest is to offer and share my experience.
Kisses and sweet and tender dances.
Telf:+34 658831717
Significant teachers
Mari Carmen Arno, Víctor Orive, Urfs Sttaufer, Martin Keog, Ray Chung Joseph Stella, Karl Frost, Nancy Stark, Ecki Müller, Daniela Swartz, Thomas Mettler, MIRVA,