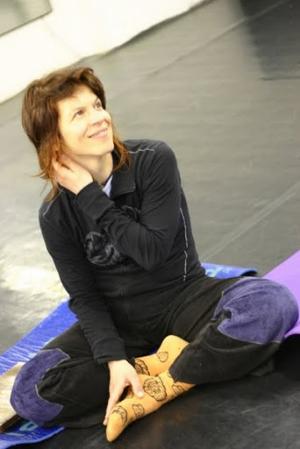 Dancer, teacher, movement- and dance therapist
I earned my degree in gymnastics training, physical education and physical therapy at the Hungarian University of Physical Education. I started to interested in - not just the physical motion, but the soul – the "psyche" of the movement, which led me to Psychodynamic movement – and dance therapy studies.
Since 2004 I've been teaching improvisation, CI, composition for adults, for dancers, for families. To see how my kids use their body – in a soft and creative way - and the touch, I feel that as adults we can study a lot from them. They still keep the knowledge of the body. These ideas led me to organize family contact classes where families play and move together giving new ideas to each other. - www.kontakttanchaz.wordpress.com
In my youth I travelled a lot to study ( CI 36 – USA; ECITE – A, H; IDOCDE, PORCH - Ponderosa – D; Lunati Contact – I ) and I had the opportunity to teach in international festivals, leading workshops too (Freiburg Festival, Contact Meets Contemporary -D; TransContact (RO), Coppenhagen (DK), KontaktBudapest, Hungarian CI Festivals (H).
Nowadays I more settled down, building straw- bale house, living in yurt, having goats... dancing CI with the nature. But I'm still curious … my interests are: voice and movement, landart & site specific improvisation, the common base of folk dance and CI. - www.kontaktneptanc.hu
As a member of TetraÉter Group we investigate improvisation, the connection between movement – music- visual arts, crossroads performances; organizing Impro Summer Camps, Impro Jams (All Night Long Jams). - www.tetraeter.wordpress.com
CI became my "life phylosophie", my experiences made me believe that CI helps us to open personal boundaries and shows new ways to our deep self.