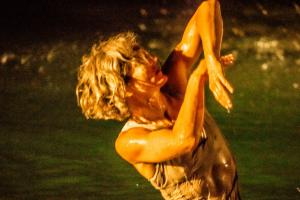 Gabriele is a dancer, teacher, performer, researcher. Following her interest she is practicing Contact Improvisation and sharing her experience since nearly 20 years. Embodiment, performance, site specific, nature and and other dance forms as Tango Argentino and Aerial Dance are influencing her work. 
For many years she was teaching arround in Europe. Now being mother, she is teaching arroung her area from professionals, acting stundents, disabled and lays.
Also she teaches arround in several German Cities, spreading her wings again further.
Since 8 years she is organising the International Festival of Conatct Improvisation and Tango in Europe as well as Contact Jams in her area NRW - North - Rhin - Westphalia