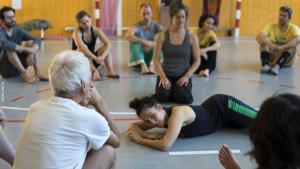 Lucía Sánchez
Docente / Bailarina / Directora fundadora de lapuertaroja y La Mimosa

En el 2007 emprendo la aventura de abrir un Estudio de Danza y Pilates en Madrid, lapuertaroja, con el propósito de generar un espacio en Madrid dedicado a la exploración del cuerpo en movimiento con actividades como Contact Improvisación, Danza Contemporánea, Pilates, Butoh, BMC, laboratorios o JAMs. Diez años después numerosos estudiantes, amantes de la danza y profesionales han formado parte de este proyecto.
Además de dirigir y gestionar lapuertaroja, facilito clases de Danza Contemporánea y Pilates desde el 2008 además de Contact Improvisación en lapuertaroja y Flying Low en Estudio3. Como docente facilito talleres intensivos o clases de danza en diferentes lugares (Tilburg (Holanda), Göttingen (Alemania), Lisboa o Nueva York), así como en festivales de danza: Italy Contact Festival (2018), Contact Meets Contemporary (Alemania, 2016, 2017 y 2018), Festival de Contact de Madrid (2017) y en el Micro-Festival de danza improvisada de Madrid (2013).
Del el 2012 al 2016 formo parte de la compañía de música y danza improvisada Omos Uno, dirigida por Cristiane Boullosa, actuando regularmente en España y formando parte de la muestra de Artes Escénicas surgeMadrid (2014, 2015 y 2016).
He trabajado como bailarina en el Teatro Real para la ópera "Moses und Aron" dirigida por Romeo Castelucci y coreografiada por Cindy Van Acker (2016), con la coreógrafa Mamen Agüera (Little Queens y Cía.) en el II y III ciclo de "Improvisación y otros Demonios" con el espectáculo "Ono to One" (2016 y 2017 en el Teatro de la Puerta Estrecha) y con el coreógrafo Jesús Rubio ("Gracias por favor" con la pieza "Stabat mater" en el Teatro Pradillo 2009). Como performer y creadora participo con la pieza "Las Sillas" junto con Mónica Almagro en la primera edición del Festival de Butoh "Alma Negra" (Madrid, 2015). En 2017 comienzo un nuevo proyecto de danza y música improvisada, Concuerdas, junto con Sarah Gottlieb y Paloma Carrasco en colaboración con la galería de arte Modus Operandi (Madrid).

Lucía Sánchez
Movement educator / Dancer / Dance studio founder and director

In 2007 I started the adventure of opening a dance and Pilates studio in Madrid, lapuertaroja, with the purpose of generating a space in Madrid for exploring the moving body with activities such as CI, Contemporary Dance, Pilates, Dance Improvisation, Butoh, BMC, labs or JAMs. Ten years after, many students, dance lovers and professionals have been part of it.
As a movement educator I started teaching Modern Dance and Pilates in 2008 as well as CI (Contact Improvisation) at lapuertaroja and Flying Low in Estudio3. I've also been teaching in different places around Spain and Europe facilitating weekend dance workshops or teaching at dance festivals such as "Contact Meets Contemporary" (Germany 2016 and 2017), "Madrid Contact Improvisation Festival" (2017) and at the "Micro-Festival de danza improvisada de Madrid" (2013).
As a dancer I'm a troupe member at the dance and music improvisation Company Omos Uno since 2012, dancing regularly in theaters around Spain. Also worked with the choreographer Cindy Van Acker for the opera "Moses und Aron" directed by Romeo Castelucci at the Teatro Real (Madrid), with the choreographer Mamen Agüera (Little Queens y Cía.) at the 2nd and 3rd editions of the improvisation series "Improvisación y otros Demonios" (Theater La Puerta Estrecha 2016 and 2017), or with the choreographer Jesús Rubio at the Dance Festival "Gracias por favor" with the choreography "Stabat mater" at the Teatro Pradillo (Madrid, 2009). Also made my own performative work in collaboration with Mónica Almagro (Madrid's Butoh Festival "Alma Negra" 2015). In 2017 I enter a new project for improvised Dance and Music performances (named Concuerdas) with Sarah Gottlieb and Paloma Carrasco in collaboration with the art gallery Modus Operandi.