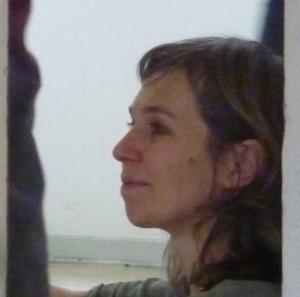 Stéphanie Auberville, dancer, choreographer and improvisor. Since the early 90s, she has been engaged in the practice of improvisation, which she considers to be a writing and an artistic field in its own right. Her main teachers in CI are Nita Little and Nancy Stark Smith. She did love the teachings of Andrew Harwood, Kirstie Simson, Daniel Lepkoff, Sarah Shelton Mann, Martin Keogh, and Karen Nelson. She is engaged in the Tuning Score practice, Lisa Nelson's work is a main influence, she also followed and was influenced by Deborah Hay, Simone Forti, Yoshito Ohno, and Benoit Lachambre.
She teaches CI and improvisation. She likes transmitting topics such as the play between improvisation and CI, the questions about timing and times, the basics of CI, and about the resonance effects. Her teaching is rooted in a perceptions work, sensorial investigations as well as the implementation of imaginary. 
As a teacher, she gave weekly classes ( from 2004 to 2012), weekend and week workshops. She was invited to teach at WCCIF, (Berkeley) at 1001 Festival (Grenoble) at Freiburg Festival, in Britany or in Ariege. In brussels she taught in Tic tac Art centre, Dance Jette Centrum, Charleroi danse.
She organizes workshops, classes, jams, and meetings around CI, exchanges and labs on CI and Improvisation. She initiated the Tic Tac jam, and host it with Alice Maffi, Flor Campise, Liesbeth De Jong, Liesbeth Luisterburg and Meldy Ypelaar.
ΩΩΩΩΩΩΩΩΩΩΩΩΩΩΩΩΩΩΩΩΩΩΩΩΩΩΩΩΩΩΩΩΩΩΩΩΩΩΩ
As a choreographer, she has a "documentary approach", her works is based on encounters, on investigation the archives. Her pieces play with how we look at the world, disrupt our pattern of gaze, undo how we are choreographed, and attempt blur norms.
By the side of cultural venues, she develops projects in situ for which she occupies venues such as a geriatric hospital, a business bank, or an emergency shelter for homeless people. Her artistic work emerges from the meeting with the venue and with the people who make it live, employees and users, who are often involved in the projects to different degrees.