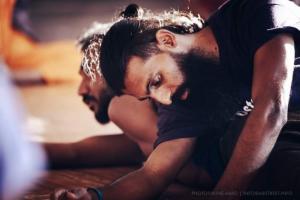 Aditya Sasidharan is a movement practitioner, who enjoys experimenting with different kinds of movement based forms. His being and occupation finding echo in the common concept of movement.
 His journey of movement started in jovial childhood dancing, pre teenage times getting into martial arts (Karate), later falling in love with football and slowly towards intense and disciplined dance forms when he ' Graduated in Dance ' through Terence Lewis Dance Foundation Scholarship Trust (TLDFST) ' by Terence Lewis. He also invested himself in learning the basics of various martial art forms like capoeira, muay thai, akido, etc & finding love in parkour purely for its efficient way of organising ones own body to execute simple to complex maneuvers smoothly eventually being led to the universe of contact improvisation (CI).
He later travelled extensively throughout India to spread awareness around CI and in these journeys, he had an epiphanous realisation – that people needed to listen to their own bodies better so that they can communicate with another. Thus began his personally conceived and conceptualised sessions themed around 'Body Exploration'. 
In these sessions, Aditya helps individuals develop a foundational, yet deep rooted understanding about their own bodies and its interaction with the world outside, such that they can discover the most effortless way of moving. Breath being an integral part of movement and his sessions. His sessions are based on personal experiences, but also extensive observations of other people. A deep sense of respect and empathy guide Aditya's sessions, wherein, he does not look at himself as a teacher, but a facilitator aiding in the discovery of the uniqueness which lies in each body. He endeavors to help people listen to themselves. Creating confidence, comfort through awareness of their own bodies is what Aditya has helped countless people achieve, while conducting these sessions in an air of openness, joy and uninhibited fun. 
This understanding of one's own body eventually helps to connect, listen and understand other bodies in CI much more freely. Once the individual understands how to organise and discipline their own body at any level (ground/ standing/ flying) the fear of falling is eliminated or reduced which helps the body to be more relaxed and composed when flying with a partner. The mind is less occupied but the body is agile and confident.