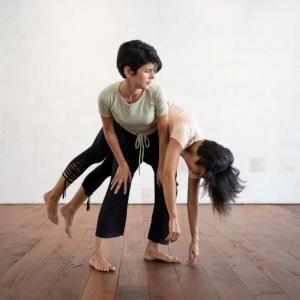 Aalia Hashem (also known as Marriki) is a Contact Improvisation Facilitator and Dance Artist from Vancouver, Canada. A noteworthy facilitator in the Bali dance community, she leads classes, jams, workshops and retreats. Previous movement studies over the last 20 years include contemporary dance, jazz, hip-hop, swing dance, fusion, blues, qigong, and yoga. She attended training in Contact Improvisation from the renowned Edam Dance Company, studying with some of the originators of CI, including Anne Cooper, Andrew Harwood, Martin Keough, and Peter Bingham. She splits her time between Asia (Bali, Thailand) and Canada (Vancouver, Saltspring Island).
In 2019, her inquiry into the dance form took her abroad to continue studying with over 40 Contact teachers. In a short time, she danced for several music videos for International artists, performed at dance conferences, and directed collaborative films. Professional projects include launching Contact Body, the first ever self-paced online course for Contact, and hosting the podcast Faces of CI, interviewing Contact facilitators about their affinity with the practice as a mirror for life. 
Momentum, Beginner's workshop for Contact Improvisation, has been taught 15 times in Bali, training 200+ dancers. Clients and teaching opportunities in recent years include Bali Bloom Festival, Towards 50CI Conference in Thailand, NYX Bali Co-working and 1:1 private dance coaching. She is currently based in South Asia, the "Island of Gods", Bali.
Aalia's curiosity and love of the dance form stems from sharing the principles of the practice and delving into the socio-creative aspects through reflective group conversation. To her, Contact Improvisation is a continuous investigation on movement as a vehicle for present-moment awareness, community, connection, creative expression, self-empowerment, spontaneity, and the pure joy of play. 
Links & Upcoming Workshop Schedule