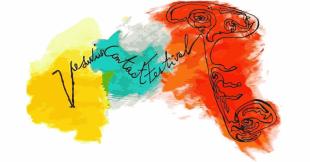 𝗩𝗘𝗦𝗨𝗩𝗜𝗨𝗦 𝗖𝗢𝗡𝗧𝗔𝗖𝗧 𝗙𝗘𝗦𝗧𝗜𝗩𝗔𝗟
13 - 18 Settembre 2022 a Pompei
(𝘌𝘯𝘨𝘭𝘪𝘴𝘩 𝘉𝘦𝘭𝘰𝘸) 6 giorni di 𝗖𝗼𝗻𝘁𝗮𝗰𝘁 𝗜𝗺𝗽𝗿𝗼𝘃𝗶𝘀𝗮𝘁𝗶𝗼𝗻 alle pendici del 𝗩𝗲𝘀𝘂𝘃𝗶𝗼 per festeggiare la fine dell'estate danzando e celebrando insieme i 50 anni dalla nascita della C.I.
Saranno giorni di studio, condivisione, ricerca e divertimento a due passi dal parco archeologico di Pompei e dal 𝗺𝗮𝗿𝗲.
In questa prima edizione l'intensivo della mattina sarà tenuto da 𝗜𝘁𝗮𝘆 𝗬𝗮𝘁𝘂𝘃, mentre i pomeriggi saranno dedicati alle classi di 𝗶𝗻𝘀𝗲𝗴𝗻𝗮𝗻𝘁𝗶 𝗱𝗲𝗹𝗹𝗮 𝗰𝗼𝗺𝘂𝗻𝗶𝘁𝗮̀ 𝗶𝘁𝗮𝗹𝗶𝗮𝗻𝗮 ed alle 𝗽𝗿𝗼𝗽𝗼𝘀𝘁𝗲 𝗱𝗲𝗶 𝗽𝗮𝗿𝘁𝗲𝗰𝗶𝗽𝗮𝗻𝘁𝗶 che raccoglieremo insieme. E tutte le sere… 𝗝𝗔𝗠 !
L'evento sarà ospitato dall'associazione Sharing Art in un 𝗻𝘂𝗼𝘃𝗶𝘀𝘀𝗶𝗺𝗼 𝘀𝗽𝗮𝘇𝗶𝗼 immerso nella natura, dotato di 𝗱𝘂𝗲 𝗽𝗲𝗱𝗮𝗻𝗲, 𝗯𝗮𝗿 𝗲 𝘀𝗽𝗮𝘇𝗶𝗼 𝗽𝗲𝗿 𝗹𝗲 𝘁𝗲𝗻𝗱𝗲; la cucina sarà vegetariana.
Info e iscrizioni: 👉 𝘄𝘄𝘄.𝘃𝗲𝘀𝘂𝘃𝗶𝘂𝘀𝗰𝗼𝗻𝘁𝗮𝗰𝘁𝗳𝗲𝘀𝘁.𝗶𝘁 👈

🔹 𝗜𝗡𝗙𝗢𝗥𝗠𝗔𝗭𝗜𝗢𝗡𝗜 𝗣𝗥𝗔𝗧𝗜𝗖𝗛𝗘:
𝗗𝗔𝗧𝗘: Dal 13 al 18 Settembre 2022 (5 notti) con arrivo il 13 pomeriggio e partenza il 18 dopo pranzo
𝗗𝗢𝗩𝗘: Pompei (Napoli) - raggiungibile da autostrada A3, o treno da Napoli in direzione Sorrento (linea Circumvesuviana) o Salerno (Trenitalia)
𝗣𝗥𝗢𝗚𝗥𝗔𝗠𝗠𝗔: Corso Intensivo la mattina, Classi singole e proposte dei partecipanti i pomeriggi, Jam tutte le sere.
Gli insegnanti ospiti saranno:
>> Itay Yatuv - 𝘚𝘭𝘰𝘸 𝘧𝘰𝘰𝘥 𝘥𝘢𝘯𝘤𝘦 (intensivo)
>> Mela Beletto - 𝘛𝘳𝘢𝘯𝘴𝘪𝘻𝘪𝘰𝘯𝘪 (classe)
>> Vera De Propris - 𝘚𝘵𝘳𝘢𝘵𝘦𝘨𝘪𝘦 𝘥𝘪 𝘤𝘰𝘮𝘱𝘰𝘴𝘪𝘻𝘪𝘰𝘯𝘦 𝘪𝘴𝘵𝘢𝘯𝘵𝘢𝘯𝘦𝘢 (classe)
>> Nica Portavia - 𝘖𝘳𝘨𝘢𝘯𝘪𝘤𝘢/𝘖𝘳𝘨𝘢𝘯𝘪𝘻𝘻𝘢𝘻𝘪𝘰𝘯𝘦 (classe)
>> Marco Ubaldi - 𝘊𝘰𝘳𝘱𝘰 𝘦 𝘭𝘰 𝘴𝘱𝘢𝘻𝘪𝘰 (classe)
>> Camillo Vacalebre - 𝘗𝘳𝘦𝘭𝘶𝘥𝘪 𝘢𝘭𝘭𝘢 𝘊𝘰𝘯𝘵𝘢𝘤𝘵 𝘐𝘮𝘱𝘳𝘰𝘷𝘪𝘴𝘢𝘵𝘪𝘰𝘯 (seminario)
𝗣𝗘𝗥𝗡𝗢𝗧𝗧𝗔𝗠𝗘𝗡𝗧𝗢: in tenda propria; c'è la possibilità di pernottare in B&B a 600mt dagli spazi danza con costo a parte, secondo disponibilità della struttura
𝗣𝗔𝗦𝗧𝗜: Vegetariani - i pasti inclusi sono dalla cena del 13 al pranzo del 18 settembre
𝗖𝗢𝗦𝗧𝗢: Sliding Price* in early bird per iscrizioni fino al 15 luglio: da 330 a 370€ | dopo il 15 luglio: 370€ | possibilità di pernottamento in B&B a 50€ extra a notte
* = 𝘚𝘭𝘪𝘥𝘪𝘯𝘨 𝘗𝘳𝘪𝘤𝘦: 𝘤𝘩𝘪 𝘱𝘶𝘰̀ 𝘱𝘢𝘨𝘢𝘳𝘦 𝘥𝘪 𝘱𝘪𝘶̀ 𝘴𝘶𝘱𝘱𝘰𝘳𝘵𝘢 𝘭'𝘦𝘷𝘦𝘯𝘵𝘰 𝘦 𝘭𝘦 𝘱𝘦𝘳𝘴𝘰𝘯𝘦 𝘤𝘩𝘦 𝘴𝘰𝘯𝘰 𝘪𝘯 𝘴𝘪𝘵𝘶𝘢𝘻𝘪𝘰𝘯𝘪 𝘱𝘪𝘶̀ 𝘥𝘪𝘧𝘧𝘪𝘤𝘪𝘭𝘪; 𝘱𝘢𝘨𝘢 𝘲𝘶𝘢𝘯𝘵𝘰 𝘱𝘶𝘰𝘪, 𝘤𝘰𝘯𝘴𝘢𝘱𝘦𝘷𝘰𝘭𝘦 𝘤𝘩𝘦 𝘭𝘢 𝘵𝘶𝘢 𝘨𝘦𝘯𝘦𝘳𝘰𝘴𝘪𝘵𝘢̀ 𝘳𝘦𝘯𝘥𝘦 𝘭'𝘦𝘷𝘦𝘯𝘵𝘰 𝘱𝘰𝘴𝘴𝘪𝘣𝘪𝘭𝘦!
𝗖𝗢𝗡𝗧𝗔𝗧𝗧𝗜: contactnapoli@gmail.com
🔹 𝗣𝗲𝗿 𝘁𝘂𝘁𝘁𝗲 𝗹𝗲 𝗶𝗻𝗳𝗼𝗿𝗺𝗮𝘇𝗶𝗼𝗻𝗶, 𝗹𝗲 𝗱𝗲𝘀𝗰𝗿𝗶𝘇𝗶𝗼𝗻𝗶 𝗱𝗲𝗹𝗹𝗲 𝗰𝗹𝗮𝘀𝘀𝗶, 𝗲 𝗽𝗲𝗿 𝗶𝘀𝗰𝗿𝗶𝘃𝗲𝗿𝘁𝗶 𝘃𝗮𝗶 𝘀𝘂
👉 𝘄𝘄𝘄.𝘃𝗲𝘀𝘂𝘃𝗶𝘂𝘀𝗰𝗼𝗻𝘁𝗮𝗰𝘁𝗳𝗲𝘀𝘁.𝗶𝘁 👈

---------------------------------------
𝗩𝗘𝗦𝗨𝗩𝗜𝗨𝗦 𝗖𝗢𝗡𝗧𝗔𝗖𝗧 𝗙𝗘𝗦𝗧𝗜𝗩𝗔𝗟
13-18 September 2022 in Pompeii
6 days of 𝗖𝗼𝗻𝘁𝗮𝗰𝘁 𝗜𝗺𝗽𝗿𝗼𝘃𝗶𝘀𝗮𝘁𝗶𝗼𝗻 on the slopes of 𝗩𝗲𝘀𝘂𝘃𝗶𝘂𝘀 to celebrate the end of summer by dancing and celebrating together the 50th anniversary of the birth of the C.I.
They will be days of study, sharing, research and fun just a stone's throw from the archaeological park of Pompeii and the 𝘀𝗲𝗮.
In this first edition, the morning intensive will be held by 𝗜𝘁𝗮𝘆 𝗬𝗮𝘁𝘂𝘃, while the afternoons will be dedicated to the classes of 𝘁𝗲𝗮𝗰𝗵𝗲𝗿𝘀 𝗳𝗿𝗼𝗺 𝘁𝗵𝗲 𝗜𝘁𝗮𝗹𝗶𝗮𝗻 𝗰𝗼𝗺𝗺𝘂𝗻𝗶𝘁𝘆 and the 𝗽𝗿𝗼𝗽𝗼𝘀𝗮𝗹𝘀 𝗼𝗳 𝘁𝗵𝗲 𝗽𝗮𝗿𝘁𝗶𝗰𝗶𝗽𝗮𝗻𝘁𝘀 that we will collect together. And every night… 𝗝𝗔𝗠 !
The event will be hosted by the Sharing Art association in a 𝗯𝗿𝗮𝗻𝗱 𝗻𝗲𝘄 𝘀𝗽𝗮𝗰𝗲 surrounded by nature, equipped with 𝘁𝘄𝗼 𝗱𝗮𝗻𝗰𝗲𝗳𝗹𝗼𝗼𝗿𝘀, 𝗮 𝗯𝗮𝗿 𝗮𝗻𝗱 𝘀𝗽𝗮𝗰𝗲 𝗳𝗼𝗿 𝘁𝗲𝗻𝘁𝘀; the food will be vegetarian.
Info and registrations: 👉 𝘄𝘄𝘄.𝘃𝗲𝘀𝘂𝘃𝗶𝘂𝘀𝗰𝗼𝗻𝘁𝗮𝗰𝘁𝗳𝗲𝘀𝘁.𝗶𝘁 👈

🔹𝗣𝗥𝗔𝗖𝗧𝗜𝗖𝗔𝗟 𝗜𝗡𝗙𝗢𝗦:
𝗗𝗔𝗧𝗘𝗦: From 13th to 18th September 2022 (5 nights), arriving on 13th afternoon and leaving on 18th afterlunch
𝗪𝗛𝗘𝗥𝗘: Pompeii (Naples) - reachable from the A3 motorway, or by trains leaving from Naples directed to Sorrento (Circumvesuviana line) or Salerno (Trenitalia)
𝗣𝗥𝗢𝗚𝗥𝗔𝗠: Intensive Course in the morning - Single classes and participants' proposals in the afternoons - Jam every evening
Guest teachers:
>> Itay Yatuv - 𝘚𝘭𝘰𝘸 𝘧𝘰𝘰𝘥 𝘥𝘢𝘯𝘤𝘦 (Intensive)
>> Mela Belletto - 𝘛𝘳𝘢𝘯𝘴𝘪𝘵𝘪𝘰𝘯𝘴 (class)
>> Vera De Propria - 𝘐𝘯𝘴𝘵𝘢𝘯𝘵 𝘤𝘰𝘮𝘱𝘰𝘴𝘪𝘵𝘪𝘰𝘯 𝘴𝘵𝘳𝘢𝘵𝘦𝘨𝘪𝘦𝘴 (class)
>> Nica Portavia - 𝘖𝘳𝘨𝘢𝘯𝘪𝘤/𝘖𝘳𝘨𝘢𝘯𝘪𝘻𝘢𝘵𝘪𝘰𝘯 (class)
>> Marco Ubaldi - 𝘉𝘰𝘥𝘺 𝘢𝘯𝘥 𝘵𝘩𝘦 𝘴𝘱𝘢𝘤𝘦 (class)
>> Camillo Vacalebre - 𝘗𝘳𝘦𝘭𝘶𝘥𝘦𝘴 𝘵𝘰 𝘊𝘰𝘯𝘵𝘢𝘤𝘵 𝘐𝘮𝘱𝘳𝘰𝘷𝘪𝘴𝘢𝘵𝘪𝘰𝘯 (Lecture)
𝗦𝗟𝗘𝗘𝗣𝗜𝗡𝗚: in your own tent; there is the possibility to stay overnight in a B&B at 600mt from the dance areas at a additional cost, subject to availability
𝗙𝗢𝗢𝗗: Vegetarian - meals included are from dinner on 13th to lunch on 18th September
𝗖𝗢𝗦𝗧: Early Bird Sliding Price* (available until July 15th): from 330 to 370€ | after July 15th: 370€ | possibility of staying in a B&B at an extra € 50 per night
* = 𝘚𝘭𝘪𝘥𝘪𝘯𝘨 𝘗𝘳𝘪𝘤𝘦: 𝘵𝘩𝘰𝘴𝘦 𝘸𝘩𝘰 𝘤𝘢𝘯 𝘱𝘢𝘺 𝘮𝘰𝘳𝘦 𝘴𝘶𝘱𝘱𝘰𝘳𝘵 𝘵𝘩𝘦 𝘦𝘷𝘦𝘯𝘵 𝘢𝘯𝘥 𝘱𝘦𝘰𝘱𝘭𝘦 𝘸𝘩𝘰 𝘢𝘳𝘦 𝘪𝘯 𝘮𝘰𝘳𝘦 𝘥𝘪𝘧𝘧𝘪𝘤𝘶𝘭𝘵 𝘴𝘪𝘵𝘶𝘢𝘵𝘪𝘰𝘯𝘴; 𝘱𝘢𝘺 𝘢𝘴 𝘮𝘶𝘤𝘩 𝘢𝘴 𝘺𝘰𝘶 𝘤𝘢𝘯, 𝘬𝘯𝘰𝘸𝘪𝘯𝘨 𝘵𝘩𝘢𝘵 𝘺𝘰𝘶𝘳 𝘨𝘦𝘯𝘦𝘳𝘰𝘴𝘪𝘵𝘺 𝘮𝘢𝘬𝘦𝘴 𝘵𝘩𝘦 𝘦𝘷𝘦𝘯𝘵 𝘱𝘰𝘴𝘴𝘪𝘣𝘭𝘦!
𝗖𝗢𝗡𝗧𝗔𝗖𝗧: contactnapoli@gmail.com
🔹 𝗙𝗼𝗿 𝗮𝗹𝗹 𝗶𝗻𝗳𝗼𝗿𝗺𝗮𝘁𝗶𝗼𝗻, 𝗰𝗹𝗮𝘀𝘀 𝗱𝗲𝘀𝗰𝗿𝗶𝗽𝘁𝗶𝗼𝗻𝘀 𝗮𝗻𝗱 𝘁𝗼 𝗿𝗲𝗴𝗶𝘀𝘁𝗲𝗿 𝗴𝗼 𝘁𝗼
👉 𝘄𝘄𝘄.𝘃𝗲𝘀𝘂𝘃𝗶𝘂𝘀𝗰𝗼𝗻𝘁𝗮𝗰𝘁𝗳𝗲𝘀𝘁.𝗶𝘁 👈