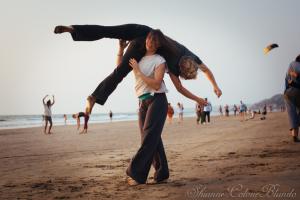 I am a dancer, performer and Contact Improvisation teacher. My passion and journey in dance led me to discover CI in 2006 and since then I am a dedicated researcher and practitioner of this art form. CI awake in me also the interest for real time composition which is now part of my teaching and focus of my improvised performances.
I started teaching and organizing CI events in Romania after an intense period of traveling and dancing around Europe and USA between the years 2011-2015 participating in CI workshops, festivals and jams. This experience but also some significant personal changes gave me clarity and courage to start teaching and share my life perspective through dance.
I learned and took inspiration along the years from: Stephen Batts and Ursula Laeubli, Benno Voorhan and Sybrig Dokter, Catrina Choate, Scott Wells, Ekaterina Ericson, Alexandra Soshnicova and Serghei Golovnya, Cyrus Khambatta, Nora Hajos, Nancy Stark Smith, Ralf Jaroschinski, Sveta Bird, Sasha Dodo, Bernd Kanppe, Adrian Russi, Susanne Martin, Anjelika Doniy and many more.
At the present moment I am teaching weekly CI classes in Bucharest, intensive CI workshops in Romania and other countries, dancing and performing in cultural projects with PETEC and organizing CBF, the Contact Improvisation Festival in Bucharest.