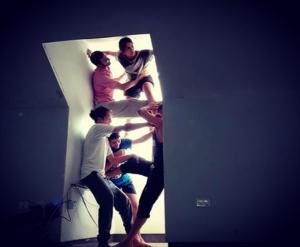 I have a creative practice driven by an awe and wonder for humanity and an equally poignant curiosity and respect for the more-than-human world. My work prioritizes content over genre, weaving text, dance, video, music and new media. I consider all work to be site and context-specific and am interested in mobilizing audience agency through interaction and unconventional use of space.
My interest in the human experience has recently brought me to work with the real stories of under-represented peoples, offering up their unique experiences as a site for connection. This work is being done as a Core Collaborator for EchoTheaterSuitcase project, directing original site-specific interactive installation created in collaboration with military veterans and non-veterans based on their stories.
My work has been presented at the Imagining Bodies Symposium in Estonia, the SFIAF (Jewels in the Square) and the Cowell Theater, SoWat Now and Looking Left Festival, and Santa Cruz Fringe Festival in California, and at the SEEDS Festival at Earthdance (MA).
I teach Axis Syllabus, Contact Improvisation, Composition, Acrobatic Stilts, and Dance History. Whatever the subject, I consider the students in my classroom researchers and I intend to offer tools to encourage range, choice and curiosity.
I have taught internationally in Estonia, Finland, Spain, Germany, Denmark and Mexico. I have performed on submarines, desert rocks, construction scaffolding, and art galleries. I've made pieces about dementia, gender, war, heritage, identity. I care about image, awe, and beauty. In creating a wide and rich acceptance of what it is to be human.
I have been blessed with opportunities to perform with Nita Little, Nancy Stark Smith, Live Art Installations, Felix Ruckert, Kira Kirsch, Erika Tsimbrovsky, Scott Wells, Amie Dowling, Krista DeNio and many other inspiring body/minds.