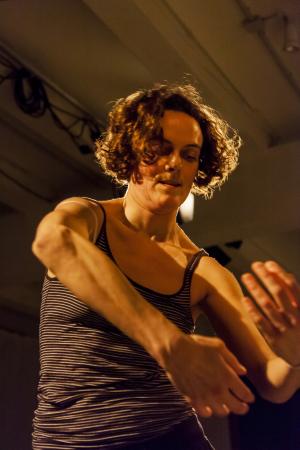 Trinidad Martínez (Cartagena, Spain) is a freelance choreographer, dancer and dance teacher. At the moment she lives in Hamburg. She works in international artistic projects with professional performers, but she is especially drawn to interact with people with different artistic experiences, social backgrounds and mixed abilities.
EDUCATION
Although she starts dancing when she was 7 years old, her main education was at the "Centre de Danse International Rosella Hightower" in Cannes, France and at the "Centro de Danza Internacional Carmen Roche" in Madrid, Spain. Here she studied different contemporary dance techniques (Limon, Cunningham, Graham), ballet, acting, flamenco, etc. From 1993-95 began working professionally "Jeune Ballet International Rosella Hightower". 1995 she made finisched her Degree with the Diplome in Modern Dance Best Note (Diplôme de Lauréat).
Farther Education / Scolarship: In 2007 she went to the United States on a Fulbright Fellowship to expand her knowledge of dance improvisation and specifically of Contact Improvisation.
She practices Aikido regularly since 2003 (2 Dan, Aikikai, Tokyo). ACTUAL AND THE LAST YEARS in Hamburg
Dance and Aikido Teacher Trinidad Martínez (since the april 2018) offers dance improvisation classes at the HFBK (Hochschule für Bildene Kunst).
She Teaches Aikido for Children at the Sho Shin Dojo since 2015.
Projects Social / Art She directes and teaches two different Community Projects "Der Ort, Kunstraum Wegenkamp" (since 2015) with children, "Women in Motion" (since 2018). These Projects are subventionated by Bezirksamt Eimsbüttel.
She collaborated with Katharina Oberlik in the performance "Hamlet Kids" (Inmanuels Kirche in Veddel) and "can you see me?", (Thalia Theater Gaußstraße, 2016; Internationales Fachkolloquium der Theaterpädagogik des AGORA Theaters im Triangel, Sankt Vith, Belgien, Okt 2017).
Together with Anke Böttcher they created the dance project "Freiräume" with people with and without disabilities (Goldbekhaus, April-August 2017).
In the sommer 2017 (OPENHAUS "Mit wie vielen Sinnen bin ich?") and 2016 ("OPENHAUS") T. Martínez and Hatto ter Hazeborg created a youth performance which was show at the Eidelstedter Bürgerhaus. They rehearsal four weeks. In cooperation with the Berufsschule Eidelstedt.
She coordinated and choreographed the "Altona Macht Auf! Sehnsuchtsfenster & Balcontheater" in Hamburg, where people in the Altona neighborhood are encouraged to make short performances on their balconies. (2015 – 18)
Collaboration with profesional Dancers She helped as the choreography assistant on Antje Pfundtner's performance, "ende" (2016, Kampnagel/Europäisches Zentrum der Künste Dresden), "nimmer" (2015, Schauspielhaus Hamburg u. a.), "Der Nussknacker" (2012, Kampnagel, Hamburg).
Performances as dancer. Martínez tanzte in den Tanzproduktionen: "Urban Bodies" (2017, Theater der Welt) und "Superhero" (2010, Kampnagel, Hamburg) von yolanda gutiérrez & projects mit.
She also performed in "Urban Bodies" (2017, Theater der Welt) and "Superhero" (2010, Kampnagel, Hamburg) with Yolanda Gutiérrez & Projects.
Own work She directed and performed "Sala de Espera," which has been shown in public waiting rooms in Hamburg (Ausländerbehörde and Job Center in Altona) and Murcia (Centro de Salud en Blanca and Facultad de Letras in Murcia). She also is one of the dancers in "Cuerpo Devenir," an integrated dance project directed by Marisa Brugarolas in Murcia, Spain. They performed at the Academia de Bellas Artes de San Bernardo in Madrid. Berlin, Bremen and Hamburg
Performances as Improvisation Performer June 2018- 19: Blurred Edges Festival Hamburg. Musik: Dietmar Kirstein, Marc Pira. Tanz: Ingo Reulecke, Trinidad Martínez. Sound: Paulina und Constantin Laskowski
Mai 2017-18: Am 5. NOW! Festival 2017 für Action Theater™ & Improvisation im Studio VERLIN, Berlin. Trinidad Martínez as teacher and performer together with other teachers like Sten Rudstrom, Andrew Morrish, Peter Krempelsetzer und Ingo Reulecke.
December 2016-18: Speicherbühne Bremen "mini improvisation Festival" together with Britta Pudelko, Ingo Reulecke and Markus Hoft. Sound Dietmar Kirstein, Mark Pira and Johannes Schäfer and more.
January 2017: At Kranich Dojo-Kreuzberg, Berlin. "echzeit tanz" with dance T. Martínez, Ingo Reulecke. Sound Biliana Voutchkova and Klaus Janek.
October 2016: Inmanuelskirche Berlin. With dance T. Martínez, Ingo Reulecke. Music: Heidemarie Wiesner, Johan Moir, Ho Bey und Casey Moir.
Murcia and Barcelona (Spain)
Working as Organizer and Teacher 2017 – 2018 December, Workshops for experimental Sound and Movement: "zeitlichkeit" (2017), "en la marea" (2018) Centro Párraga, Murcia, Spain. Martínez directs together with Ingo Reulecke and Selu Herraiz.
2016 and 2018 Residency workshop at Konvent Puntzero, Cal Rosal, Barcelona. "SCAPE/ESCAPE/LANDSCAPE" (2016), "HANDSCHRIFT" (2018) together Ingo Reulecke and Selu Herraiz.
August 2017: "naturpur", site specific Dance/Performance/ Improvisation at El Útimo Bucardo, Pyrenees, Spain. Martínez facilitates together with Ingo Reulecke.
December 2016: "tumbados sobre madera escuchamos el silencio", experimental dance and movement workshop at the El Quirófano, Murcia, Spain. Together with Selu Herraiz.
December 2015: at El Quirófano in Murcia. Martínez facilitated a Live-Kompositions-Performance Workshop "en pausa together with Ingo Reulecke.
2011-15: Martínez was the co-director for the yearly dance festival inesperadamente: improvisation – movement – performance – contact – sound. It took place in diferent places in Murcia. In a collective with seven dancers and one musician: Ingo Reulecke, Marisa Brugarolas, Markus Hoft, Scott Davis, Isabelle Kirouac, Miria Mäkinen and Antonio Alemanno
It is a project that invited people to participate in workshops, performances, labs, discussions, etc. The 10-day festival draws more than 80 people from around the world. Around this project they orbit other residencies and workshops which take place in Murcia and Hamburg.
photo Copyright 2015 Escuela Off in Guayaquil (Ecuador)
Pedagogy/ Stage In 2011 she received a Goethe Institut grant for a choreography teaching residency at the dance school La Fábrica Cuerpo-Espacio in Guayaquil, Ecuador (Nathalie Elghoul is the director of this space). During those two months she facilitated and taught modern dance, improvisation,etc, 5 hours per day for 20 people from cities throughout the region. They performed at the Sala Zaruma in Teatro Sánchez Aguilar and at the "Festival Internacional de Artes de Guayaquil: Fiartes." During this time she also performed her solo piece, "In the year 2009 he broke up with me." in the United States
Farther Education / Scolarship: In 2007 she went to the United States on a Fulbright Fellowship to expand her knowledge of dance improvisation. During this time she travelled the country participating in numerous dance workshops and festivals. Some of the teachers from who she received class are: Scott Wells, Karl Frost, Cyrus Khambatta, Troy Lucero (Ashtanga Yoga), Yoshimitsu Yamada Sensei (Aikido), Donovan Waite Sensei (Aikido) etc. and she participated at: Sfdi, Strictly Seattle, Winter Melt, etc.
Work as a dancer In Seattle she began working with the Pat Graney Dance Company for the piece "House of Mind" performed at Seattle store house, and 2011 at the John Michael Kohler Arts Center, Houston. The she worked with the Degenerate Art Ensemble with Haruko Nishimura and Joshua Kohl for the piece "Sonic Tales" (Moore Theater 2009).
Choreography She coreographed together with Degenerate Art Ensemble: "The Red Shoes". Performed at the Frye Art Museum 2011 and different places in Seattle.
Own pieces / with professionals She choreographed together with Dayton Allemann, Emma Klein and Jonas Buster Radvik "Tres, Tristes, Trigres", which had premiere at the Freehold Theater.
Art / Social During this period of time she also participated in artistic projects with a social and artistic background like: Keeping the Faith Project with Pat Graney Company (which took place in a women correctional), Path with Art (workshop for people without many economic resources) and at the Wing Luke Museum (workshop for young people from the Asia community). MAGPAI PRODUCTION GROUP, 1998–2009 Hamburg / Murcia / Seattle
In 1998 she founded the Magpai Production Group in Hamburg with the composer, musician and programmer Dayton Allemann. They performed a variety of pieces, which were shown internationally and at the Kampnagel Theater in Hamburg. Together they explored new paths for sound and movement to merge and express together, and produced shows in collaboration with other artists until 2009. From 2003 to 2007 they were part of the artistic collective La Fragua, in Murcia, Spain.
Own works and cooperation with other artists (a few of them)
2009: "Tres Tristes Tigres", an evening Performance. It hat Premiere at the Freehold Theatre in Seattle.
2005: "Polyurethane Brain", Electro-acustic-Concert-Installation, performed in Hagen, La Fragua, Ridnaun-Schneeberg (Südtirol) and Bozen.
2003: "Der Komet", with texts from Bruno Schulz. Premiere in Kampnagel, Hamburg.
2002: "b-movie", Dance, Music, Film and Light performance at B-Movie (cinema), in Hamburg."DMT", with premiere at Kampnagel and Lichthof, Hamburg.
2001: "Trini's Trini", Solo-Performance, performance at Kampnagel and in different places in Hamburg.
1998: "Naked, Nude or Devoid" at the "Junge Hunde"-Festival at Kampnagel, Hamburg.
1999-05 "I could eat a beer" is a small stage performance, inspired in the daily contact with those who live on the street. It was presented in Hamburg (Werkstatt3, Monsun Theater, Rote Flora, Die Mission, Schlachthof, B-movie and Zelt Theater); in Kiel (Hansastrasse 48, Alte Meierei); in Friesland at the "Neuenburger Kunst Woche" and in Schwerin at the "Internationales Tanztheaterfestival". "I could eat a beer" (since 2003) was performed also in Murcia. It was presented in La Fragua; at the "Festival Internacional de teatro y danza de San Javier" (in "a. Parte") and at the Centro Municipal Puertas de Castilla as the opening for the festival: "ciclo de solos y dúos: nuevos lenguajes de la danza".
1999-00 "Navigations" involved video and body sensors. It had its premiere at the "Hamburger Kurzfilm Festival" in the Fundbureau, Hamburg; it was also performed at the "EigenArten Festival" and in the "Altonale" in Hamburg.
She has offered intensive dance workshops and regular classes since 1998, mainly in Hamburg, Murcia and Seattle, and has taught at numerous Contact Improvisation Dance Festivals, including: Contact Sierra Festival, California, United States; Contact Meets Contemporary, Göttingen, Germany; and the 4th International Contact Improvisation Festival Fuerteventura, Canary Islands, Spain. FIRST COMPANIES
Trinidad Martínez began working professionally at the Jeune Ballet International R. Hightower, Cannes, France under the artistic direction from Edward Cook. Later own she works at the Nationaltheater Mannheim, with Philippe Talard as the director and worked at the Theater der Stadt Hagen, directing Jean Jacques Vidal. Both theaters are in Germany. Edit