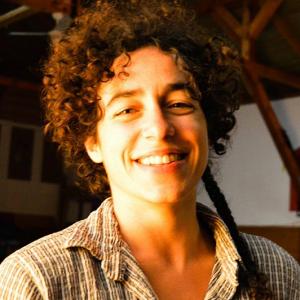 Graduated from Urban Planning and Urban Design, started to work with associations and projects on community living, sustainability and participative design. I have been teaching yoga and meditation since 2015 and asissting Teacher Training Programs and working as a body therapist. I have been part of CI-Turkey team and helping out with social media and communication.
I have been moving since my childhood. I played volleyball as setter for 10 years. While I was doing outdoor sports like trekking, cycling and caving I started practicing yoga. Since 2011 I am practicing yoga and meditation daily. I also get interested in body therapies like massage, craniosacral and have been trainings since 2014. Simultaneously on my bodily experimentations and research I started Contact Improvisation. Since 2016 I have been part of the research team on CI with Defne Erdur's facilitation.
I am still on the research and learning process on movement by attending workshops in ÇATI and Çıplak Ayaklar Company on contact improvisation, jams, improvisation, modern dance etc. and joining several festival in the world.