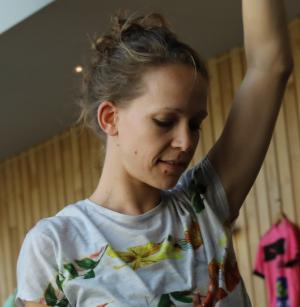 Mélanie Jolly is a dancer and practitioner certified in Eutony Gerda Alexander®.
After years of learning ballet, then contemporary dance at the Poitiers Conservatoire, she has developed a taste for improvisation and especially Contact Improvisation since she met these dances. With Claire Filmon, with whom she trained for many years, she discovered how a relationship with oneself and with the others can emerge from listening to the moment, body consciousness and perceptions, and found great pleasure in movement.
She continued her training by following workshops, notably with Nancy Stark-Smith, Andrew De Lotbinière Harwood, Karim Sebbar, Hervé Diasnas, Valérie Lamielle, Lê Quan Ninh, and Clara Cornil.
She took interest in other practices such as Body Mind Centering® with Elise Bernard, Axis Syllabus with Antoine Ragot, AFCMD with Nathalie Schulmann.
Very attracted to singing, she has also followed several workshops with Daïnouri Choque, David Hykes (harmonic singing), Géraldine Keller and Claire Bergerault (vocal improvisation). She sang in the Chamber Choir of the Vienne Département.
She participates in instant composition research groups and enjoys collaborating on multidisciplinary projects.
In 2013, she started training in Eutony Gerda Alexander®, a somatic education practice. There she found the essence of what has been fascinating her for so many years : an ever deeper knowledge of oneself through the body and movement, clarifying her interest in body awareness as a source of dance expression, and refining her educational qualities to guide each and everyone in their relationship with their body. She graduated in May 2018.
At the origin of the Collectif Zone d'Appui Provisoire, she has developed her work within this dance company since 2010, both as a dancer, researcher in movement, and as a teacher.
She works with various audiences : children, adults and adults with disabilities, sharing her passion for body knowledge and the liberation of expression through movement. She also teaches Contact Improvisation in Poitiers and elsewhere, and participated in European meetings of Contact Improvisation teachers - ECITE - in 2015, 2016 and 2018.
Mélanie Jolly est danseuse et praticienne diplômée en Eutonie Gerda Alexander®.
Après des années de danse classique, puis de danse contemporaine au Conservatoire à Rayonnement Régional de Poitiers, c'est la rencontre avec l'improvisation et surtout le Contact Improvisation qui vont lui donner le goût pour cette danse. Avec Claire Filmon, avec qui elle se formera pendant de nombreuses années, elle découvre une relation à soi-même et aux autres basée sur une écoute de l'instant, sur le ressenti et la conscience du corps, et un immense plaisir du mouvement.
Elle poursuit sa formation en suivant des stages, notamment auprès de Nancy Stark-Smith, Andrew De Lotbinière Harwood, Karim Sebbar, Hervé Diasnas, Valérie Lamielle, Lê Quan Ninh, Clara Cornil.
Elle découvre avec intérêt d'autres pratiques telles que le Body Mind Centering® avec Elise Bernard, Axis Syllabus avec Antoine Ragot, l'AFCMD avec Nathalie Schulmann.
Très attirée par le chant, elle suit aussi plusieurs stages avec Daïnouri Choque, David Hykes (chant harmonique), Géraldine Keller et Claire Bergerault (improvisation vocale). Elle chante dans le Choeur de Chambre de la Vienne.
Elle participe à des groupes de recherche en composition instantannée et aime collaborer à des projets pluridisciplinaires.
Depuis 2013, elle se forme en Eutonie Gerda Alexander®, pratique d'éducation somatique. Elle y trouve là l'essence de ce qui la passionne depuis tant d'années : une connaissance toujours plus approfondie de soi à travers le corps et le mouvement, précisant son intérêt pour la conscience corporelle comme source d'expression dansée, et affinant ses qualités pédagogiques pour accompagner chacun dans la relation à son corps. Elle obtient son diplôme en mai 2018.
À l'origine du Collectif Zone d'Appui Provisoire, c'est au sein de cette compagnie qu'elle développe son travail depuis 2010, aussi bien en tant que danseuse, chercheuse en mouvement, qu'en tant que pédagogue.
Elle intervient auprès de divers publics, enfants, adultes, adultes handicapés mentaux, partageant sa passion pour la connaissance du corps et la libération de l'expression par le mouvement. Elle enseigne aussi le Contact Improvisation à Poitiers et ailleurs, et participe aux rencontres européennes d'enseignants du Contact Improvisation – ECITE – en 2015, 2016 et 2018.