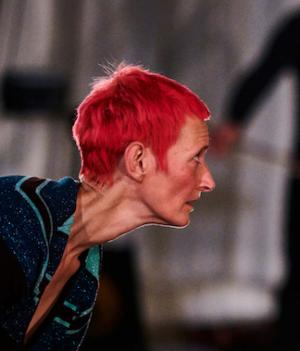 Susanne Martin (PhD)
is a Berlin based artist, researcher, and teacher in the field of contemporary dance and performance. She works internationally as soloist and in collaborative settings. Her artistic practice and research focuses on improvisation, contact improvisation, narrations of the aging body, humor and irony in dance, artistic research methods, improvisation-based and art-based approaches to learning, knowledge production and knowledge dissemination. Her book Dancing Age(ing): Rethinking Age(ing) in and through Improvisation Practice and Performance has been published by transcript in 2017.
She currently holds a postdoc position at École Polytechnique Fédérale de Lausanne (EPFL) in Switzerland, where she examines dance improvisation in its potential to rethink and advance processes of learning and researching in a technical university.
Ich performe, erforsche und unterrichte zeitgenössischen Tanz. Ich arbeite international, kreiere Stücke kollaborativ oder solistisch. Ich beschäftige mich mit Tanzimprovisation und Kontaktimprovisation als Praxis für die Bühne und als Bildungsintervention. Meine Stücke waren u. a. auf folgenden Festivals eingeladen: Aerowaves (London), International Dance and Theatre Festival (Göteborg), Nottdance (Nottingham), Opera Estate Veneto (Bassano del Grappa), Tanec Praha (Prag). 2017 erschien meine Dissertation Dancing Age(ing) im transcript Verlag, in der ich das Potenzial improvisationsbasierten Tanzes untersuche, kritisch in unsere Alter(n)skultur zu intervenieren. Seit meinem Postdoc-Projekt an der EPFL in Lausanne (2018-22) beschäftigt mich außerdem, wie künstlerische Forschung beitragen kann, das Potential von Tanzimprovisation / Kontaktimprovisation für die universitäre Lehre und Forschung zu verstehen und verständlich zu machen.